One of the most popular hikes from Trevelez in Granada's Alpujarras in Sierra Nevada is the demanding hike to the mesmerizing meadows of Siete Lagunas. But this is not a walk-in-the-park-hike. With an ascent of nearly 1500 meters along less than 9 kilometers from the village to the first lagoon, you'll have a hard time unless you're used to hiking or at least in a decent physical shape.
If you plan to join the many hikers that stay the night by the lagoons to get a night out in the fresh mountain air, take into consideration that it gets even harder to hike up the steep sections carrying a heavy backpack.
Yet, more importantly, camping in Sierra Nevada National Park can only be done by writing to the national park upfront to get permission. You can read all you need to know about it here. Finally, make sure to always Leave No Trace whether you camp out or go on a day hike!
Taking the challenge and hike Siete Lagunas from Trevelez, past pine forests, trickling rivers, captivating waterfalls cascading between picturesque, rocky mountains painted with green meadows will without a doubt give you one of the absolute best hiking experiences in Granada that will stay with you the rest of your life.
Disclosure: This post may contain affiliate links. That means that if you make a purchase through one of those links, I will get a small commission at no extra cost to you.
---
Practical information
Province: Granada
Mountain range: Sierra Nevada
Length: 17,5 km
Time: 7-9 hours
Elevation: 1500 meters
Max Altidute: 2900 meters
Route: Linear return
Difficulty: Demanding
Hiking season: June to October
Hiking with dogs: It's allowed to hike with dogs, but they have to be in a leash at all times in the National Park. You can read everything you need to know about hiking with dogs here.
---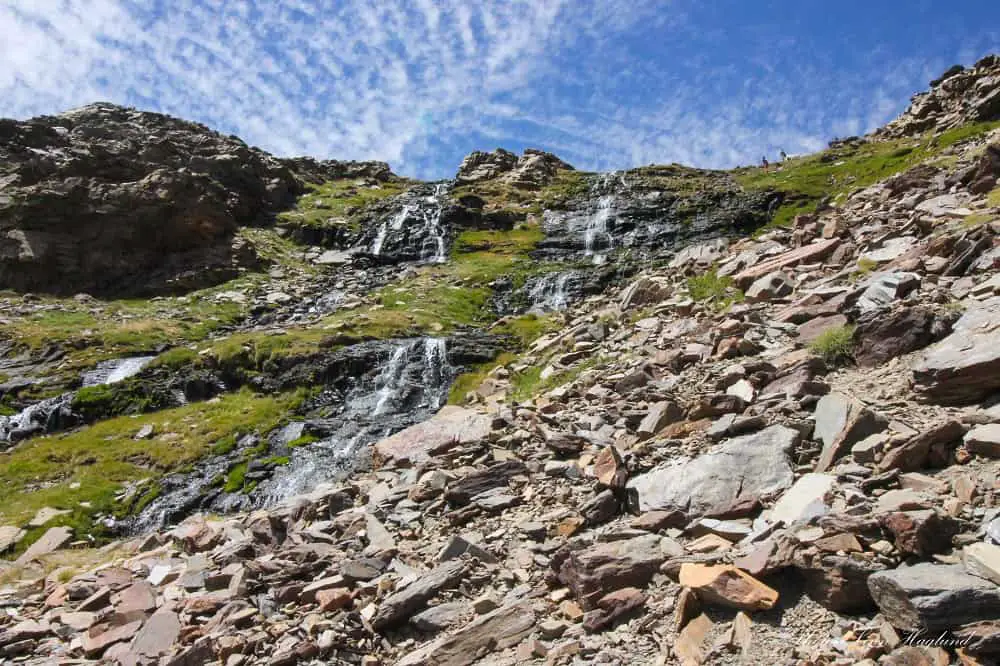 How to get to Trevelez and Siete Lagunas trailhead
The Siete Lagunas trailhead is at the top of Trevelez village. From the Town Hall, there are signs pointing you upwards on its left side. Passing an old wash place, keep walking up, and at the top, you walk to the right until you see the signs to the hike on your left. Follow the track straight up and you won't get lost.
Reaching Trevelez is easiest by car. There are a few buses a day from Granada that take about 3 hours, but you'll have to spend a night in Trevelez before and after your hike as the bus times aren't ideal for the hiking time.
Distance by car from the closest cities:
Granada: 1 hr 50 min
Almeria: 1 hr 50 min
Malaga: 2 hrs 15 min
Parking in Trevelez is easy. Plot in Trevelez in your GPS (which will take you to the Town Hall) and once you get to the higher part of the village, you'll pass a couple of parking areas on your right side. Park there and walk the last few minutes up to the Town Hall where you'll find the first signs to the trail.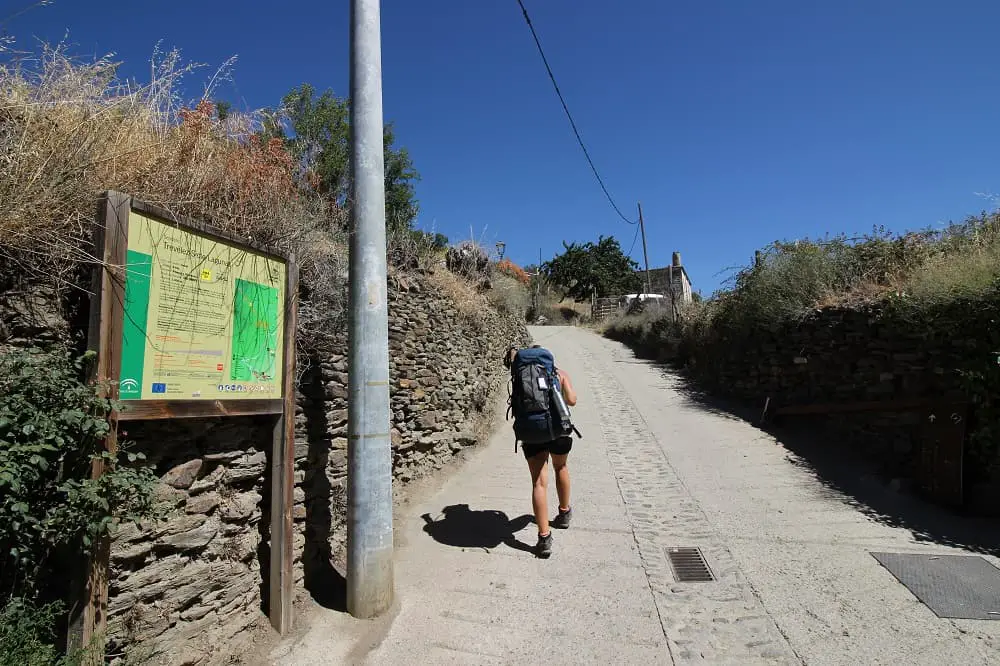 When is the best time to hike Siete Lagunas, Granada
Hiking to Siete Lagunas is definitely a summer hike. Usually, you can go from May/June, sometimes a little earlier, but make sure you check weather conditions. Because with snow and ice up the last ascent by the waterfall, it can get right out dangerous.
The best time is of course right after the snow melts when the Chorreras Negras waterfall will rush down at its fullest. But this is also when there's the best chance to see all seven lagoons with water. The smaller ones usually dry up pretty quickly as the heat kicks in.
Usually, you can hike Siete Lagunas at least until the end of October, but sometimes later if it hasn't started snowing yet.
During the last quarter of the year there's also a big chance of rain, so make sure you check the weather forecast before you go as it can be tricky to hike the last part in the rain when the rocks get slippery.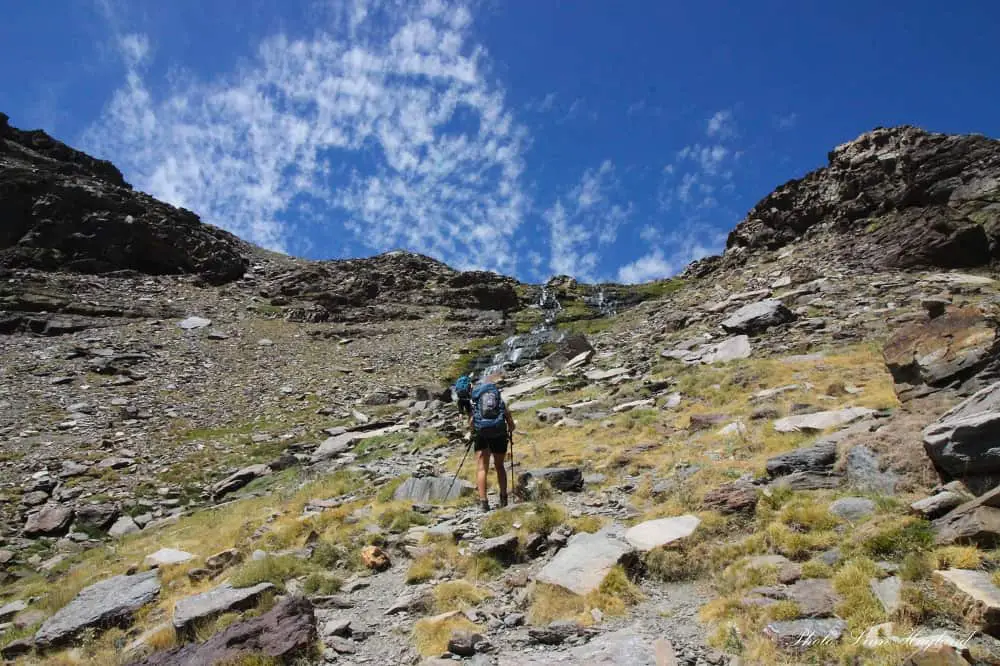 What to bring on your Siete Lagunas hike
As I've already mentioned, the Siete Lagunas hike can get hard, especially if you're not physically prepared for it. The ascent is vicious for an untrained person and it's highly recommendable to bring trekking poles.
If your budget is low but you want a decent pair of poles, check out my Hiker Hunger trekking pole review.
I also recommend bringing a knee brace for hiking, especially if you're backpacking. The ascent and descent are brutal for your knees. If you've ever struggled with a hiker's knee, don't go without!
You should also make sure you have a good backpack for day hiking that sits comfortably on your hips and that has room for a water bladder.
Trust me, you want one for this hike so you can zip water regularly without stopping. You can get good water bladders on Amazon for a decent price. Here is a good option.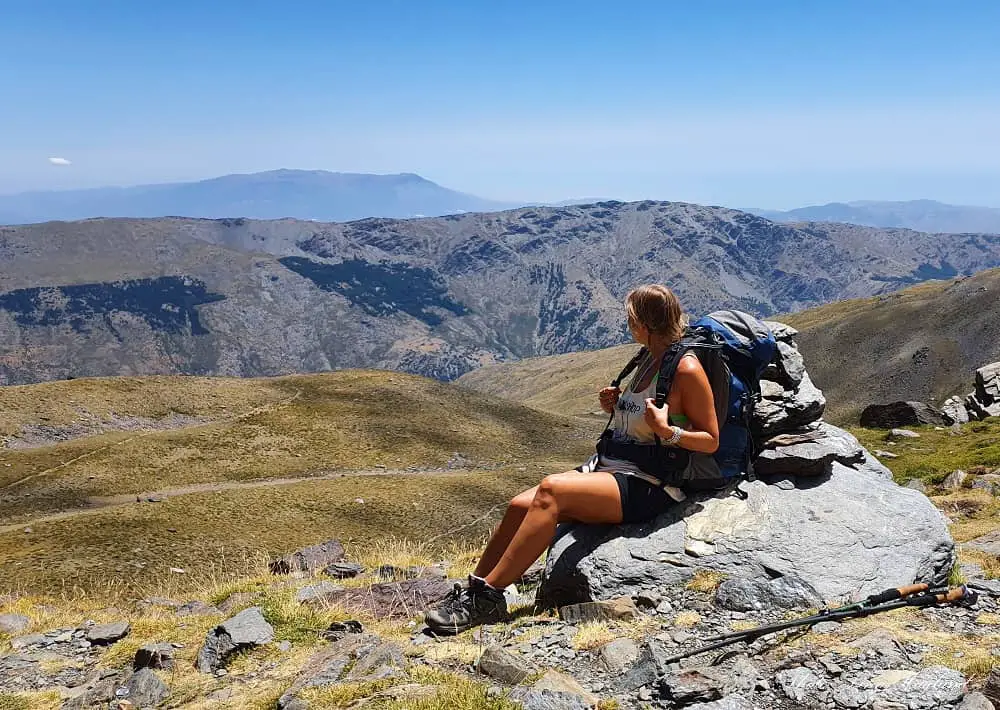 Even though the weather forecast says warm and sunny, make sure to bring along a windbreaker and leggings for hiking or other long pants (I recommend hiking pants with removable legs so that you save weight and can adjust to the weather.)
Things to bring:
Water (3 liter water bladder recommended)
Lunch
Snacks (fruit/nuts/dates/energy bars)
Camera
Hiking boots
Windbreaker
Neck gaiter
Hiking poles
Knee brace (if needed)
If camping overnight you´ll also need:
Tent
Sleeping pad
Sleeping bag
Thermal long underwear
Fleece jacket/sweater
Beanie and gloves
Cooking stove and utentils
Lightweight, nutritional food
Emergency blanket
A bag for rubbish
Wipes for cleaning
Water purifier or tablets
External charger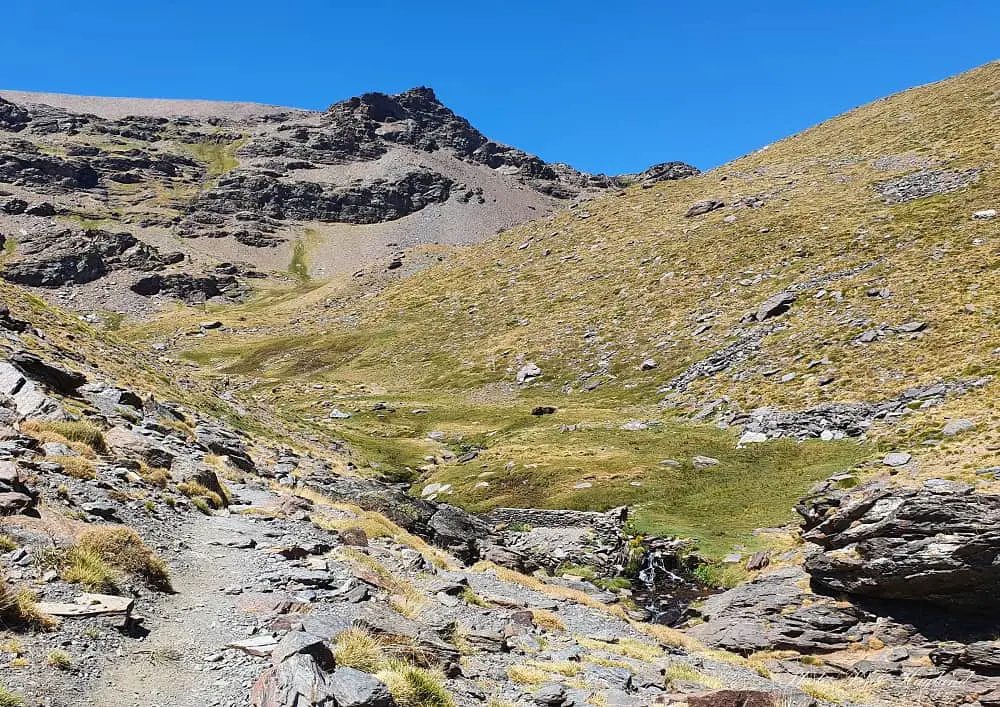 Where to stay
There are a few nice hotels in and around Trevelez. Here are my top picks.
Hotel La Fragua I – Centrally situated in the village, this is a top choice in a traditional Andalusian mountain house. Some rooms have a balcony with mountain views. There's also a terrace and an outdoor pool for the warmer months.
Hostal Casa Fermina – A pleasant, family-owned guest house that also offers larger family rooms. It's centrally located in Trevelez too with its own bar and restaurant.
Hiking Siete Lagunas from Trevelez
From the trailhead above the Town Hall in Trevelez, the Siete Lagunas hike starts on a wide track ascending steeply past farms and massive blackberry trees. It passes a couple of water sources before it gets steeper up a narrower trail.
Winding up past the human traces along the hike, you'll reach higher grounds and fewer signs of civilization. After wide landscapes and picturesque mountain views, you'll reach a pine forest. Be aware that there are pine processionary caterpillars nesting in this forest, so you should NOT hike with dogs there in the spring.
After the pine forest, your about 2.5-3 hours in and you'll reach an unguarded refuge. The views from here are unbelievable. It simply feels like being in the middle of a painting.
This is the perfect spot for a snack break to fill up with new energy.
But PLEASE bring your rubbish with you. Even fruit rests should be stored in a rubbish bag and disposed of properly when you get back down to the village.
From the refuge, you get a nice section that isn't too steep where you can really take in the surroundings. After you pass the Culo Perro (Dog's arse) river the trail slowly begins to get steeper before you reach the last grueling ascent.
It's a steep, rocky path – or better said paths – swirling in several directions just like a river finding its way through all the rocks, all leading to the top of the mesmerizing Chorreras Negras waterfall.
This section can be tough without trekking poles.
At the top of Chorreras Negras you'll be welcomed by Laguna Hondera, the largest of the seven lagoons. This is an inviting spot for your lunch break before exploring the other lagoons hiding behind it.
Walk up the mountain wrapping the green meadows in hostile, rocky walls on either side to get the best views of the 7 Lagunas, Sierra Nevada!
The hike back is the same way. If you want to hike Mulhacen (3479 masl), it's only about 1-1.5 hours from Siete Lagunas. Also Alcazaba (3371 masl) can be reached from there. If you're looking to combine Siete Lagunas with something more remote, take the detour to Cascada del Goterón.
Reflections on hiking Siete Lagunas, Sierra Nevada
Trekking Siete Lagunas from Trevelez is definitely a challenge if you're not used to hiking. But it's also one of the most rewarding hikes in Sierra Nevada. I've done it twice and trust me, it wasn't any easier the second time. But it was also just as astounding!
When hiking Siete Lagunas in Sierra Nevada, make sure you leave no trace and that you respect wildlife, farm animals, fellow hikers, local shepherds, and nature itself.
Stay on the marked paths as much as you can and if you need to go to the "toilet" remember that you can't flush the toilet paper or any female hygiene products. That all have to come with you back down from the mountain.
Poop bags for dogs are excellent to carry it in (the tricks of a dog mama) – and you get them biodegradable too!
Siete Lagunas might not be the best beginner hike unless you're generally exercising a lot and relatively fit – then it's an easy trail to follow and it's normally highly frequented by other hikers, especially on the weekends. Which makes it a good hike for any solo hiker too. If you're looking for easy hikes for beginners in Andalucia check out this post. For beginner hiking tips, read here.