If you're up for a lesser frequented corner of the Sierra Nevada and you're ready for views taken out of the Lord of The Rings, I have good news for you.
Hiking up the popular Siete Lagunas trek from Trevelez, you can continue along with picturesque views until you walk into a view of steep, hostile mountain walls dropping down to a green valley far below.
With narrow brushstrokes of green signalizing where water is or has been running down the rock slides, you'll see a bigger waterfall on the far left. You're looking at the lesser-known Cascada del Goterón.
At times it seems like only mountain goats have crossed there before, as the path on several occasions is covered by rock slides. But reaching the top of the waterfall rewards with a glittering oasis with fresh, dribbling rivers finding their way through light green moss towards the lethal edge disappearing into the rushing sound of what is Cascada del Goterón.
I found this majestic space by accident and I totally fell in love with it! I met another group of hikers that also had ended up there by accident scrambling down the hostile wall above the waterfall.
Hiking Cascada del Goterón is not for the faint-hearted. It's also not a good beginner hike. You should be in a good physical (and mental) condition before you head out on this adventure. But if you're up for it, I'm thrilled for you!
I've created this complete hiking guide for you so that you can get the most out of your hike!
Disclosure: This post may contain affiliate links. That means that if you make a purchase through one of those links, I will get a small commission at no extra cost to you. As an Amazon Associate, I earn from qualifying purchases.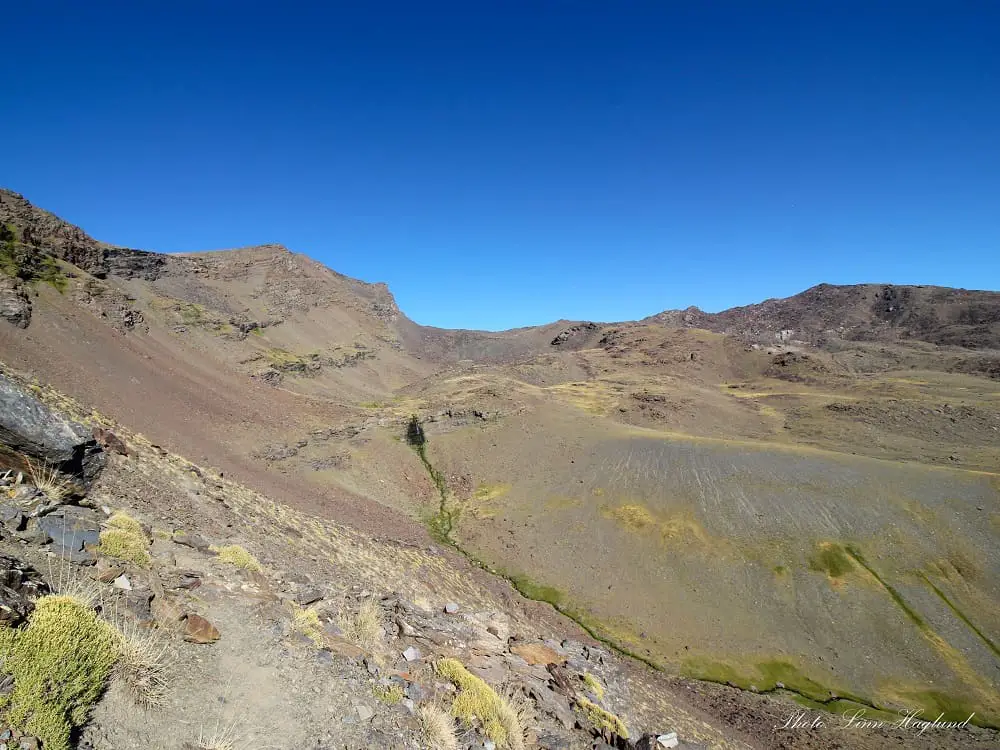 Practical information
Province: Granada
Mountain range: Sierra Nevada
Length: 21 km
Time: 10-12 hours
Elevation: 1500 meters
Max Altidute: 2900 meters
Route: Linear return
Difficulty: Demanding
Hiking season: June to October
Hiking with dogs: Hiking with dogs is allowed, but it's mandatory to have them in a leash at all times in the National Park
How to get to Trevelez and Cascada del Goterón trailhead
Cascada del Goterón isn't marked anywhere and I only found out the name of this spot by talking to other hikers local to the area. But the hike starts in Trevelez and follows all the way up to Siete Lagunas which is the most popular hike from the village.
You need to get to the Town Hall and follow the sign to Siete Lagunas up the left side of the Town Hall. Going straight up, past a washing place, and at the top, you walk right a few meters until you get to a signpost indicating Siete Lagunas trailhead. Now, all you have to do is to walk straight up and follow the trail.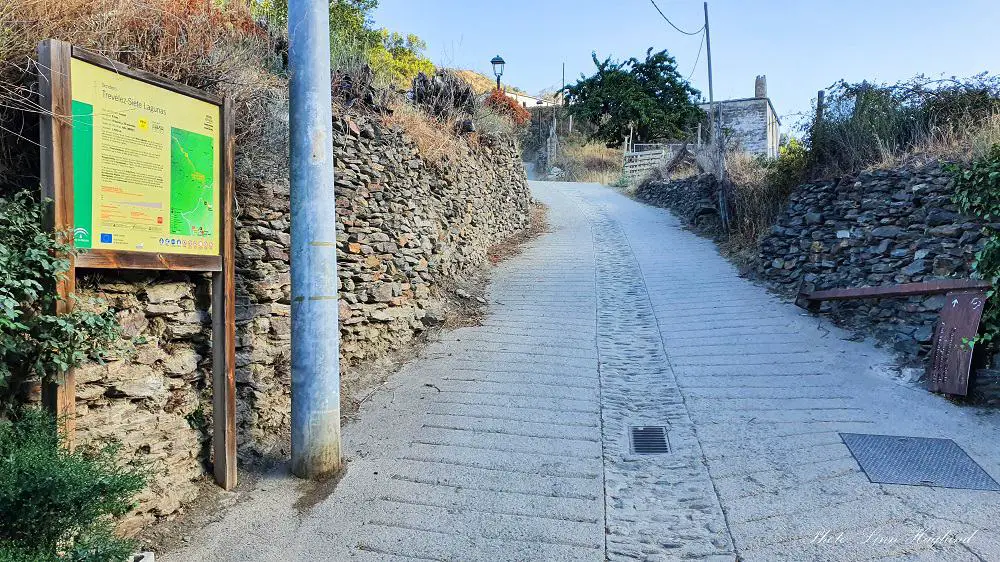 To get to Trevelez, it's easiest to go by car. It takes less than 2 hours from either Granada and Almeria and just over 2 hours from Malaga. Put in Trevelez in the GPS and you'll be guided to the Town Hall.
A few minutes before you get there, entering the upper part of the village, you'll see a couple of parking lots on your right where you can park the car and walk the last bit.
There are also some buses from Granada, but they take around 3 hours and the bus times are not ideal for hiking. If you have to travel by public transport, make sure you book a hotel for both the night before and after your trek to Cascada del Goterón.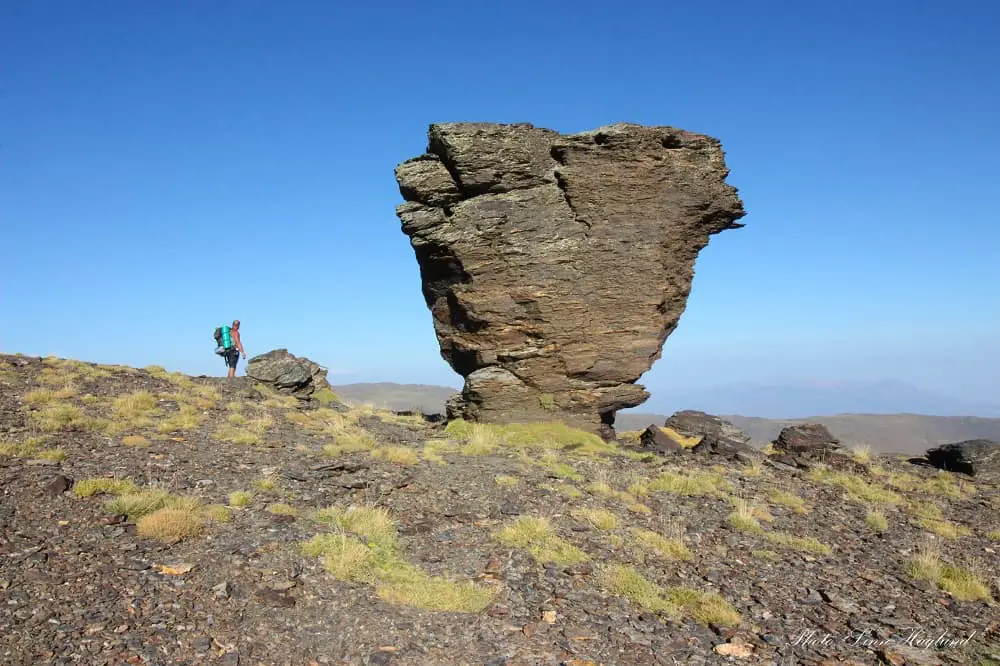 When is the best time to hike Cascada del Goterón
Cascada del Goterón can be hiked anytime from the snow melts in May/June until it starts snowing again, normally at some point in November.
It's unsafe to do this hike when it's icy and snowy, so it's important that you always check the weather forecast before you go.
If you find yourself in a situation where you encounter ice or snow on the trail and doubt if it's safe to continue, turn around. Safety first!
It can also be slippery when it's been raining so be cautious if it might rain during your trek. Especially the last section to the waterfall can be sketchy, but also the final ascent to Siete Lagunas.
If you plan on wild camping in Sierra Nevada, it's important to be prepared for cold nights, especially from September and throughout the autumn months.
You can read more about hiking in summer here.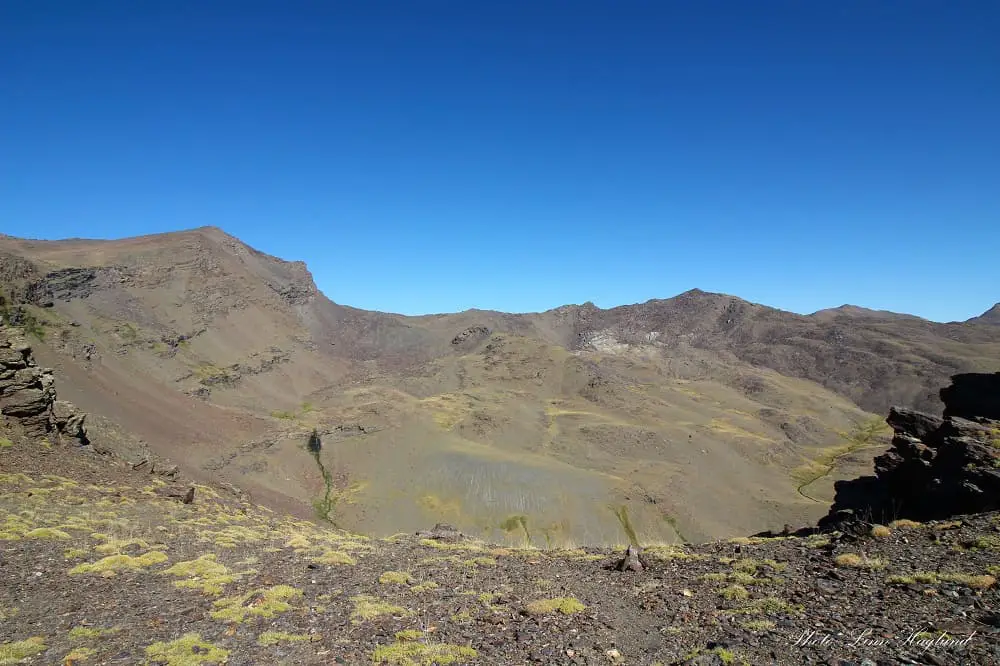 What to bring
Even in the hottest summer months, temperatures can change drastically throughout the day when you're above the tree line at a high altitude. Particularly if it's windy. So no matter what time of the hiking season you choose to hike to Cascada del Goterón, make sure you bring a windbreaker and a pair of pants or leggings for hiking.
I also recommend wearing hiking pants that you can take on and off the legs so that you can adapt to changing weather conditions quicker.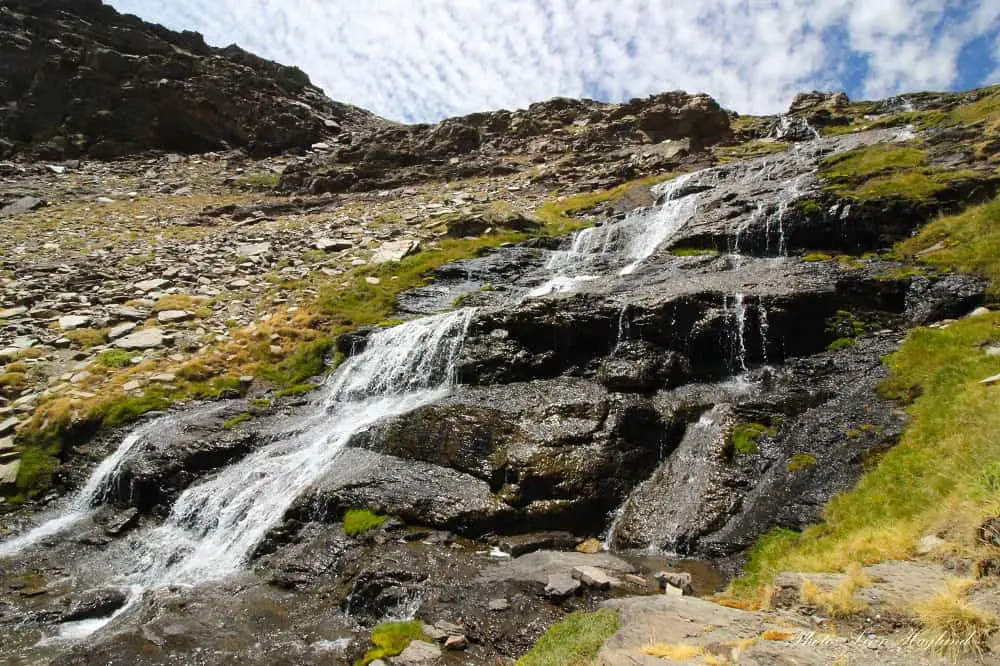 For this hike, it's highly recommended to bring trekking poles. It's a heavy ascent and the last section is very rocky with loose ground so it's helpful with the poles.
You can read my complete review of Hiker Hunger trekking poles that I use here. If you have a hiker's knee make sure you bring knee braces for hikers too. You'll thank me later!
You can check out more useful hiking gear here and the best-rated sustainable day hiking backpacks here. I also have a round-up of my favorite vegan hiking socks.
Things to bring:
Water (3 liter water bladder recommended)
Lunch
Snacks (fruit/nuts/dates/energy bars)
Camera
Hiking boots
Windbreaker
Neck gaiter
Hiking poles
Knee brace (if needed)
If camping overnight you´ll also need:
Tent
Sleeping pad
Sleeping bag
Thermal long underwear
Fleece jacket/sweater
Beanie and gloves
Cooking stove and utentils
Lightweight, nutritional food
Emergency blanket
A bag for rubbish
Wipes for cleaning
Water purifier or tablets
External charger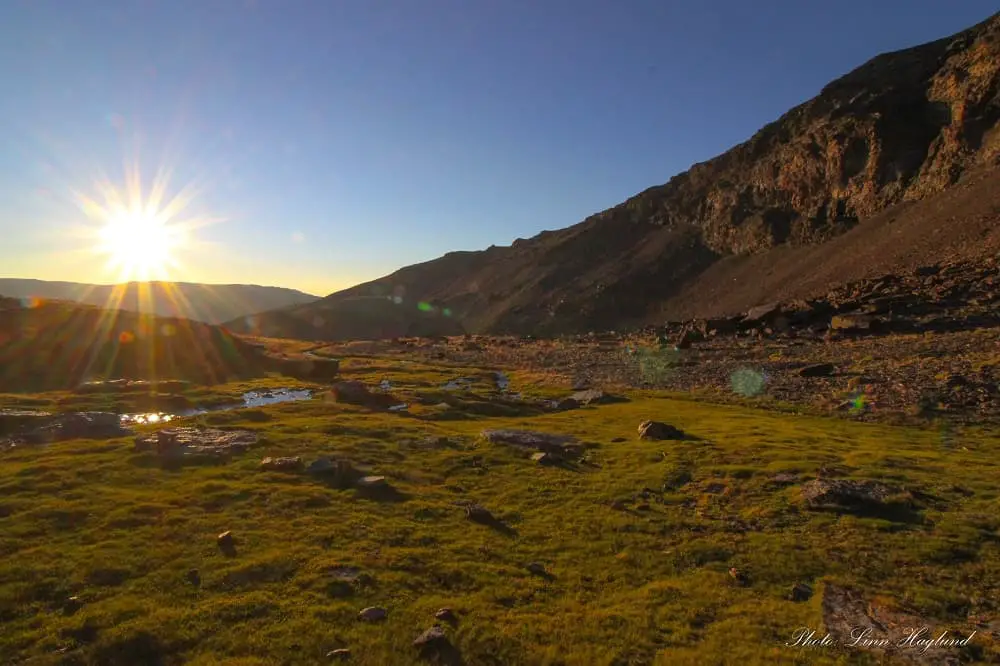 Where to stay
The best place to stay when hiking to Cascada del Goterón is in the charming white mountain village of Trevelez where the trailhead starts. Here are a couple of options for where to stay.
Hotel La Fragua I is a great place to stay centrally in Trevelez. A charming Andalusian mountain house that offers rooms with balconies and views. There is a terrace with a pool too, for the warmer months.
Hostal Casa Fermina is another good option. This family-run hotel is also centrally situated in Trevelez with a bar and restaurant.
Hiking Cascada del Goterón
The first nearly 9 kilometers of the hike takes you up the 1500 meters ascent to Siete Lagunas. This is one of the most frequented hikes from Trevelez and easy to follow.
From the trailhead you keep walking up, first on track, passing a couple of natural water sources, and after a while, leaving human structures behind, it converts into a trail.
Winding up towards picturesque mountains and through a pine forest, it takes about 2,5 hours to get to the unguarded La Campiñuela refuge.
Passing it, you'll get to more natural water sources as you cross green meadows with cows grazing. The trail continues to the Culo Perro river where you have to be cautious to take note of the mark on a rock that indicates that you have to cross the river.
It's easy to continue straight here unless you see it.
On the other side of the river, there's soon another ascent before you reach the bottom of the waterfall, the Chorreras Negras. The trail up along the waterfall divides into multiple trails, but don't worry. Follow either of them towards the top of the waterfall.
This is a tough ascent and it's recommended to fill up water at the bottom of the waterfall so you have enough for the rest of the hike. I recommend using a Steripen, LifeStraw, or purifying tablets when filling up water from the river or waterfall.
Reaching the top of the waterfall you see the first of the Siete Lagunas. Take the first trail to the right. Keeping the mesmerizing views of where you came from on your right and the rough mountains on your left, the trail takes you past a green meadow where the trail somewhat disappears a bit and becomes difficult to follow.
Look straight and you'll see the diamond-formed (or mushroom-formed according to some) rock, Piedra Yunque. Walk towards it and once you pass it, there are the odd cairns taking you straight.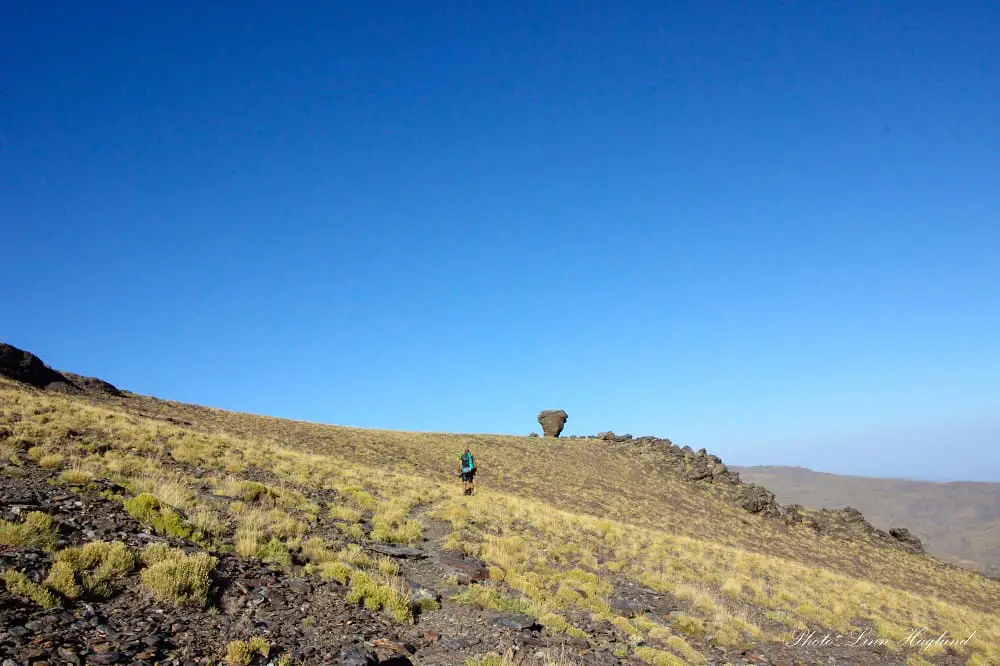 After a bit, the path will go slightly towards the left by another large rock and you'll be mesmerized by the insane views of the valley of el Goterón. Steep, rocky slopes with green tears running down to the valley floor where mountain goats run in groups.
The waterfall on the far left of the walls on the other side is Cascada del Goterón.
You're heading to the green meadows on top of the waterfall.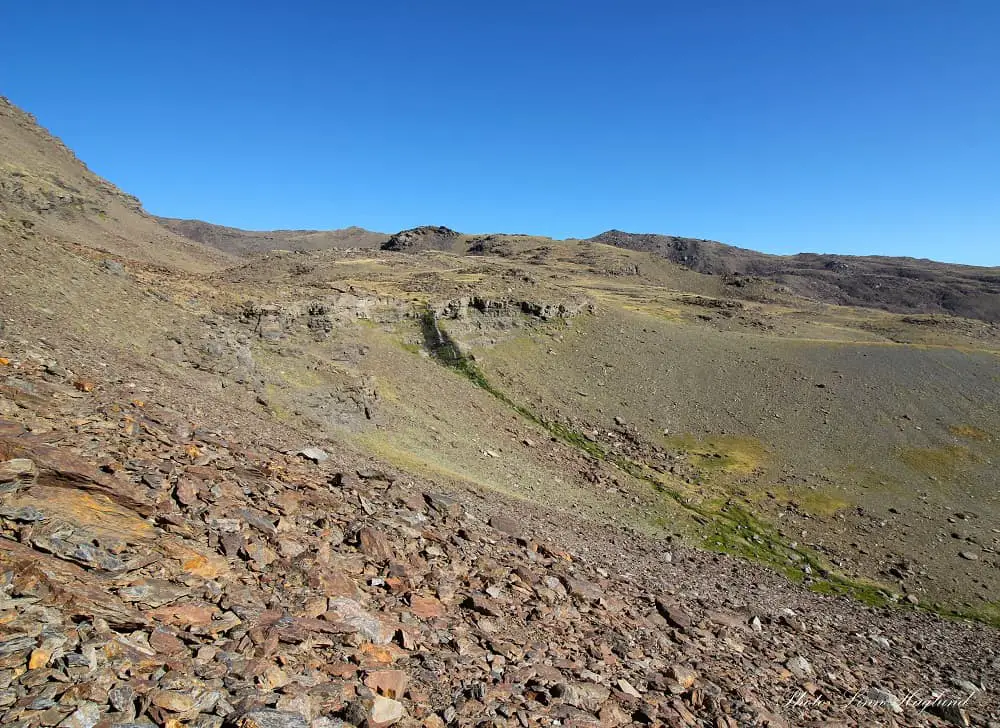 The trail continues down, steeper, rockier – at times even covered by rockslides. The last section before reaching the top of the waterfall is marked by the odd cairn as the trail disappears in large rocks.
The top of the waterfall, green and lush, with glittering water flowing towards the edge, is another oasis in the grey and otherwise hostile landscape that the high Sierra Nevada hides.
Return the same way you came from.
Reflections on Cascada del Goterón trek
Cascada del Goterón trek is probably one of the rawest and beautiful hikes in Sierra Nevada in my opinion. It's hard, but not technical, so anyone that's in a good physical state can do it. Though, as I mentioned earlier, if you have vertigo, it might be tough to follow the last section.
I had a moment of mental stress on my way back, as I somehow managed to walk about 3 meters below the actual trail. Suddenly I found myself in the middle of the slope of loose rocks with my heavy backpack and couldn't figure out the best way to get back on the trail again.
Obviously, it turned out well, but I can imagine it could be pretty bad if my vertigo had been in a worse mood (or if I'd been alone without anyone rooting for me and supporting me in where to set my feet to get back up on the trail.)
If you want to experience a different hike in Sierra Nevada, Cascada del Goterón is definitely well worth it!
Make sure you always follow the Leave No Trace Principles when hiking and if you hike with dogs, make sure you read this post so that you do it responsibly. Finally, if you choose to wild camp, it's super important that you read the guidelines for doing it correctly and legally. I've got a whole post on it that you can read here.
Happy hiking!