There's no secret that throughout time, hiking quotes have inspired millions of people to get out in nature when motivation has been low.
And it still does.
How many times have you read a hiking quote and felt the trickling urge to climb that mountain or immerse yourself on a trail knitting its way through the deep forest drowning yourself in the sweet scent of pine trees?
Nature is a powerful source that will heal you from stress and anxiety when you let yourself get lost in its sweet embrace.
Nature is also rough, it pushes your limits, and breaks you. Just to build you up again by giving you the confidence you can just about master any challenge you are given in life, no matter how hard it might seem.
Because when you push yourself up a seemingly impossible mountain and reach the summit, your worries will disappear in a heartbeat. The breathtaking views will empower you, give you peace, and bring out happiness that makes you radiant and hungry for more.
There are so many inconceivable benefits of hiking and the following inspirational hiking quotes are meant to feed your hunger for an adventure!
Disclosure: This post may contain affiliate links. That means that if you make a purchase through one of those links, I will get a small commission at no extra cost to you.
Inspirational hiking quotes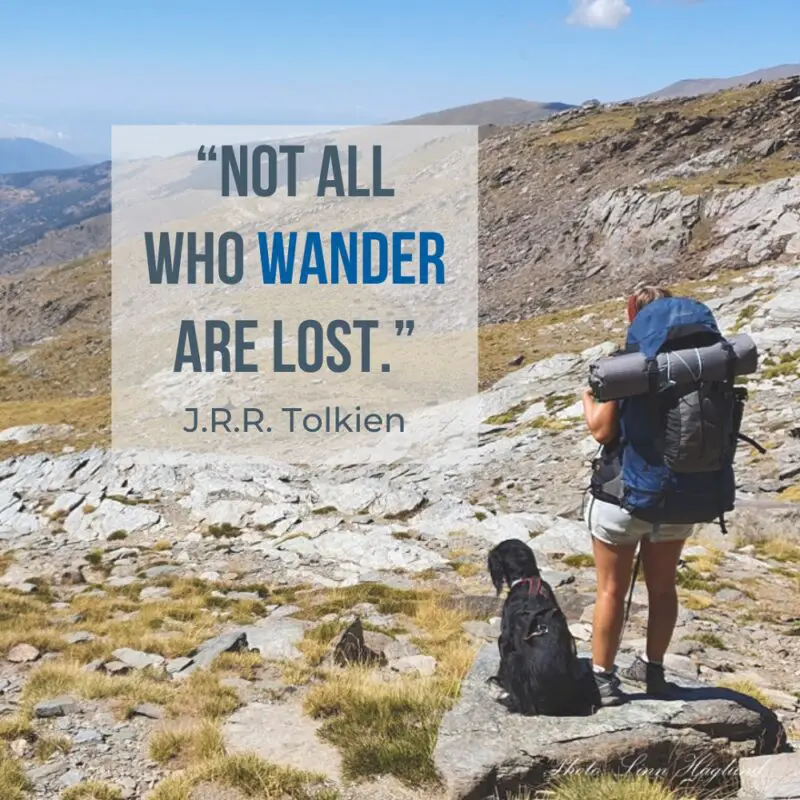 "Not all who wander are lost." 

J.R.R. Tolkien
Let's start with one of my absolute favorite quotes about hiking. J.R.R. Tolkien inspired me to wander aimlessly in nature already when I was 10 years old and I read "The Hobbit" and "The Lord of the Rings trilogy for the first time.
To this day, these books are on top of my list of sources for inspiration to get out there and conquer your fears. From my first conquered peak to my first solo multi-day hike, this quote has inspired me endlessly!
"After a day's walk, everything has twice its usual value."

G.M. Trevelyan
"A walk in nature walks the soul back home."

Mary Davis
"In every walk with nature, one received far more than he seeks."

John Muir
"I go to nature to be soothed and healed, and to have my senses put in order."

John Burroughs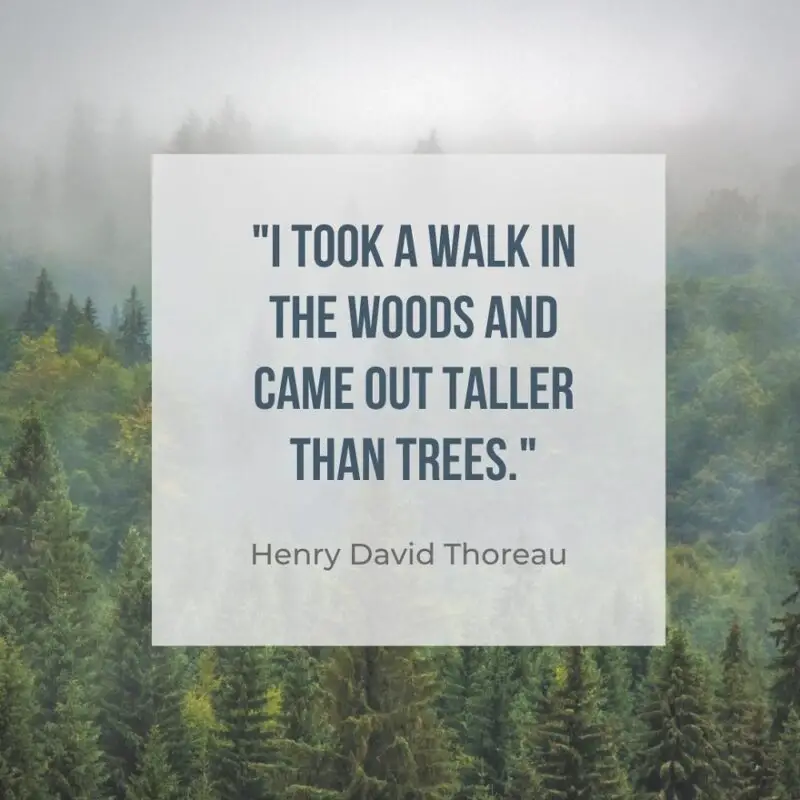 "I took a walk in the woods and came out taller than trees."

Henry David Thoreau
"We must get beyond textbooks, go out into bypaths and untrodden depths of the wilderness of truth and explore and tell the world of our glorious journey"

John Hope
"I found far more answers in the woods than I ever did in the city."

Mary Davis
"Nature is not a place to visit. It is home."

Gary Snyder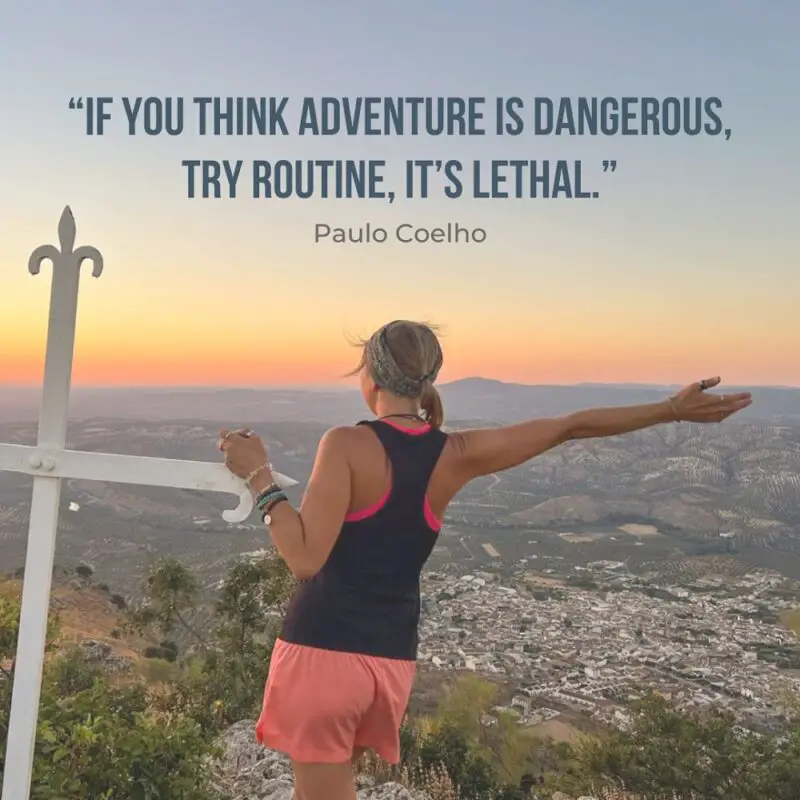 "If you think adventure is dangerous, try routine, it's lethal."

Paulo Coelho
No doubt one of the best hiking quotes of all time from another incredible storyteller! This is a good quote to get back to when anyone questions your adventures by telling you it isn't safe to go solo hiking or that you shouldn't pick such a challenging mountain to hike.
"The journey of a thousand miles begins with a single step."

Lao Tzu
"We don't stop hiking because we grow old – We grow old because we stop hiking."

Finis Mitchel
"Thousands of tired, nerve-shaken, over-civilized people are beginning to find out that going to the mountains is going home; that wildness is a necessity."

John Muir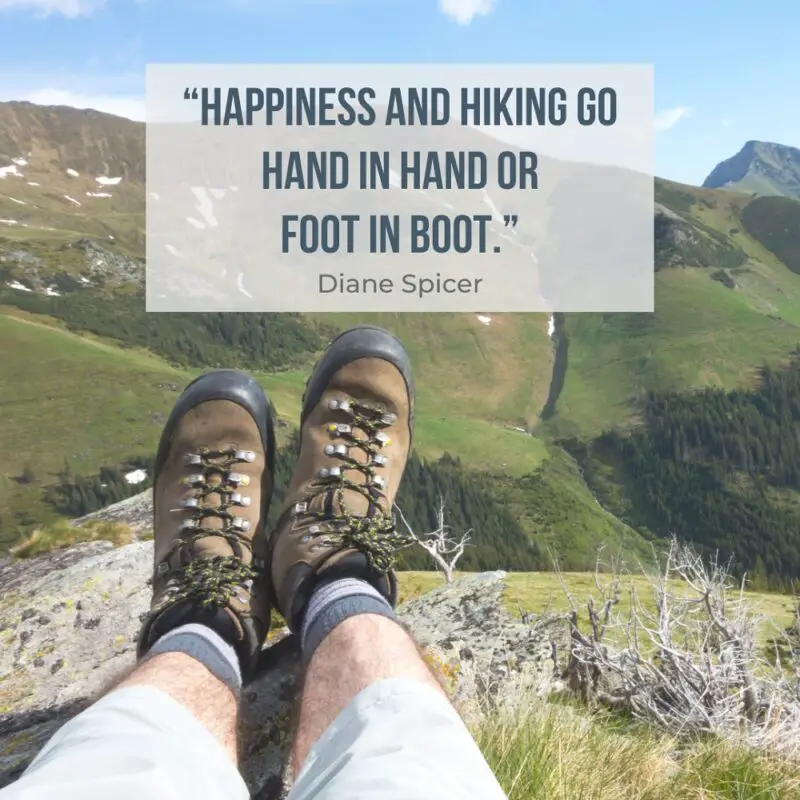 "Happiness and hiking go hand in hand or foot in boot."

Diane Spicer
This quote speaks for itself, doesn't it? There is a reason why I hear time after time from people with anxiety that their anxiety disappears completely only when they are hiking in nature.
I sure know that I am a much happier person when hiking and ironically, my mood shifts to the positive already the minute I put on my hiking boots.
"I took the one less traveled by, And that has made all the difference."

Robert Frost
"Do not follow where the path may lead. Go instead where there is no path and leave a trail"

Ralph Waldo Emerson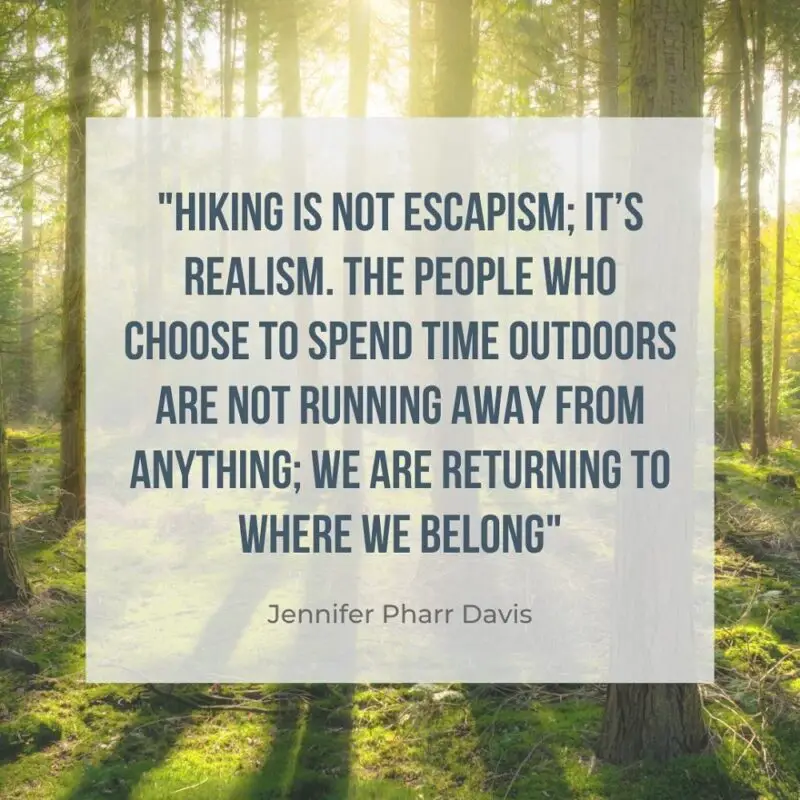 "Hiking is not escapism; it's realism. The people who choose to spend time outdoors are not running away from anything; we are returning to where we belong"

Jennifer Pharr Davis
"If you truly love nature, you will find beauty everywhere."

Vincent Van Gogh
"Look deep into nature and you will understand everything better."

Albert Einstein
" To walk in nature is to witness a thousand miracles"

Marie Davis
Nature is made of a million miracles. No beginning, no end, just constant circles of life, colors, and scents. Circles of different feelings, temperatures, and wildlife.
All you have to do is walk in nature and take it all in. Observe the bright colors after the rain, the tree crowns in the golden light of the early morning, and the endless layers of blue the mountains display just before sunset.
"There are no shortcuts to any place worth going."

Beverly Sills
"If you can find a path with no obstacles, it probably doesn't lead anywhere."

Frank A. Clark
Luckily, nature has no paths without obstacles and the shortcuts might be steeper and more challenging than the long way around.
"Of all the paths you take in life, make sure a few of them are dirt."

John Muir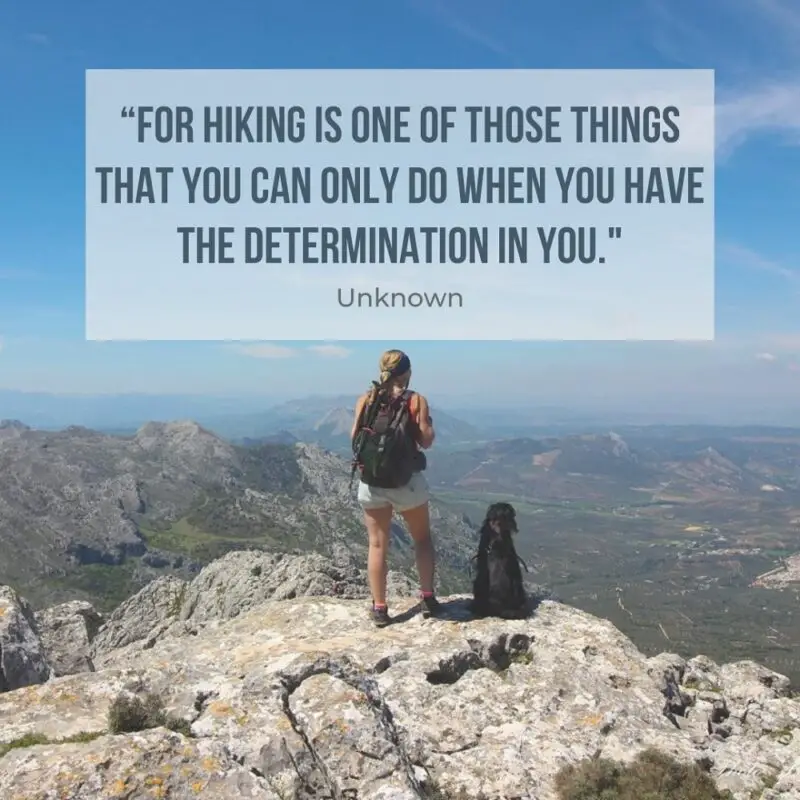 "For hiking is one of those things that you can only do when you have the determination in you."

Unknown
Whether you're climbing a peak or going on a lengthy hike, determination is certainly something you need to reach your goal. Being in nature is one of the things that bring out the determination in a lot of people to complete what they started.
It's got nothing to do with how fit you are. To remind you, that you don't have to race through the hike, but follow your own speed, I've added the following quote which in my opinion is GOLD!
"It does not matter how slowly you go as long as you do not stop."

Confucius
Best mountain hiking quotes
"You never climb the same mountain twice, not even in memory. Memory rebuilds the mountain, changes the weather, retells the jokes, remakes all the moves."

Lito Tejada-Flores
There's no bigger truth than this. If you just cross off your bucket list hikes and move on, you might miss out on a lot by not even considering walking the same trail again. But this quote goes so much deeper than that, and I'm sure that when you start thinking about it you'll feel a deep connection to it.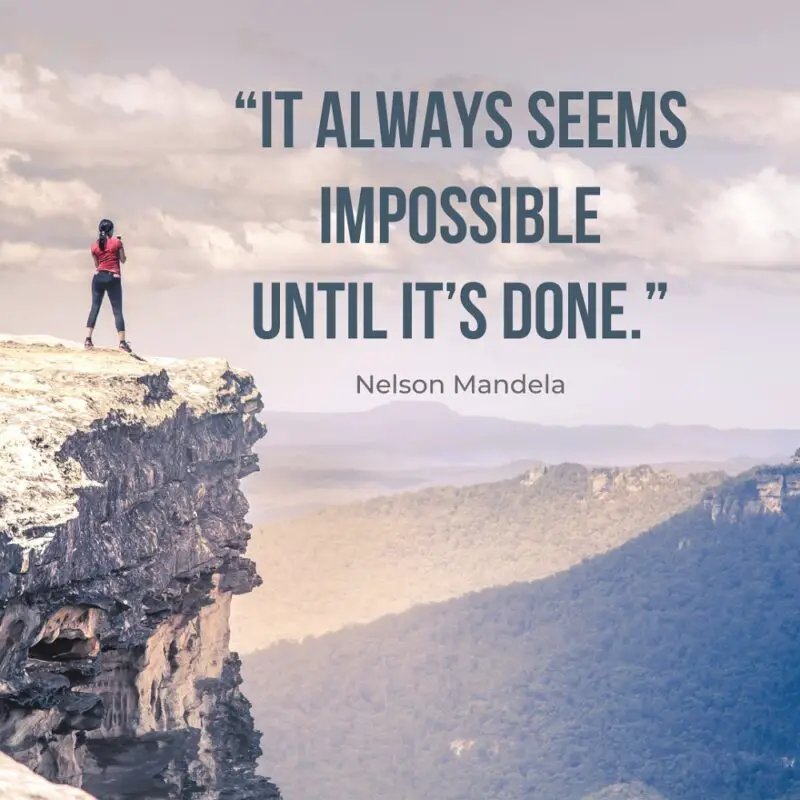 "It always seems impossible until it's done."

Nelson Mandela
This quote really touched on the feeling you have when you stare up at the top of a peak and it seems impossible to reach. It either looks way too steep or it looks like it's going to take days to get to the top.
One place I really felt this quote to my bones was when I had walked for what felt like an eternity up the rocky and seemingly vertical west slope of Mulhacen. The top didn't look any closer and behind me, I could hardly see that I had left any path behind.
The feeling of reaching the top after a slope like that is impossible to describe. The sweat and persistence, followed by the feeling of failure that hits you every time you look up realizing that you're nowhere near it.
The feeling of conquering the impossible once you actually reach the top and look down at the path you just struggled up with every bone in your body.
You have to live it to get it. And it's worth every drop of sweat.
"Somewhere between the bottom of the climb and the summit is the answer to the mystery why we climb."

Greg Child
"If you think you've peaked, find a new mountain."

Unknown
"Because in the end, you won't remember the time you spent working in an office or mowing the lawn. Climb that goddamn mountain."

Jack Kerouac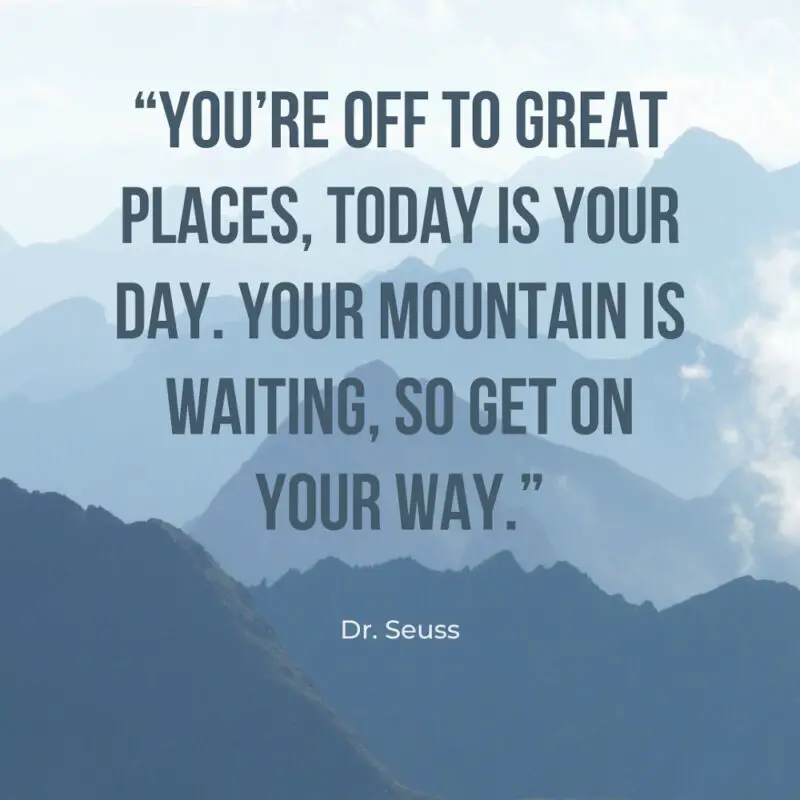 "You're off to great places, today is your day. Your mountain is waiting, so get on your way."

Dr. Seuss
"It's not the mountain we conquer, but ourselves."

Sir Edmund Hillary
One of the best mountain hiking quotes has to come from one of the most inspirational mountain climbers of all time, Sir Edmund Hillary.
Pushing physical boundaries and conquering new mountains are definitely ways to challenge our physical and mental boundaries.
I couldn't feel more aligned with this quote! Seeing what I have become after starting to push my limits on the hiking trails, especially solo, just keeps me motivated to keep doing it because there is no limit to what I can become!
And the same goes for you!
"May your dreams be larger than mountains and may you have the courage to scale their summits"

Harley King
"Everyone wants to live on top of the mountain, but all the happiness and growth occur while you are climbing it."

Andy Rooney
"For those who climb, the answer is both obvious and impossible to explain — the everyday concerns of livelihood, of social standing, overdue bills, and futureless romance all fall away before the vast and overwhelming absolute of the mountain."

Paul Watkins
This quote hits so straight in the gut, which is why you should always take a hike when things become extra stressful in your everyday life. It truly fuels your energy and helps you be present in times when you have a lot to worry about in your day to day.
I have gone for hikes on my darkest days and always come back with new courage and a better and more positive mood.
The power of walking in nature.
"I like being near the top of a mountain. One can't get lost here."

Wislawa Szymborska
Best hiking quotes for inspiring long-distance hiking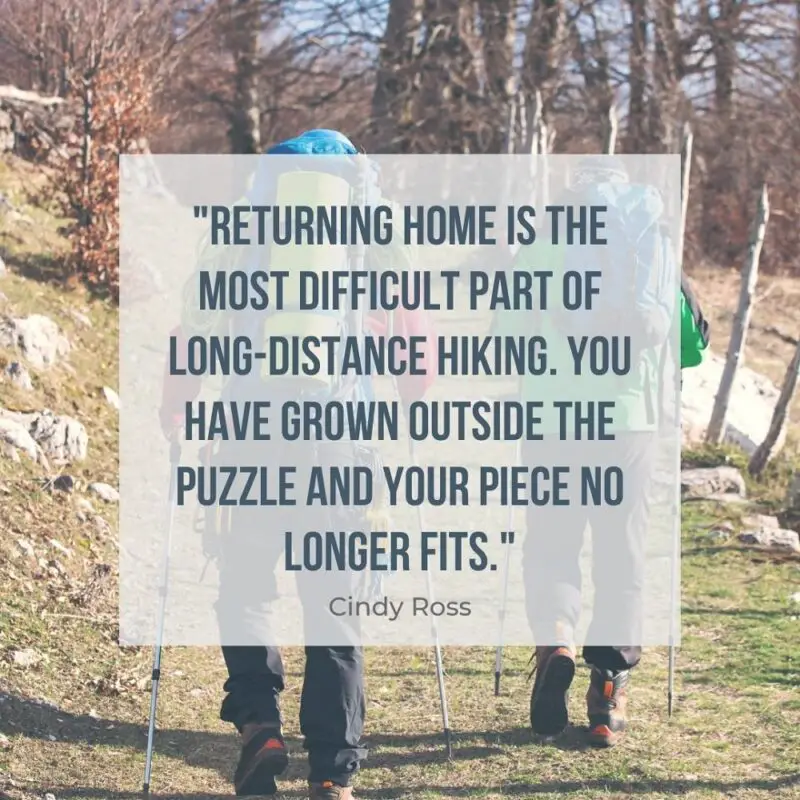 "Returning home is the most difficult part of long-distance hiking. You have grown outside the puzzle and your piece no longer fits."

Cindy Ross
This is growth. Personal and mental growth. This is why everyone should do a long-distance hike at least once in their life and why you need to keep building on the person you come back as.
"Anywhere is within walking distance."

Unknown
"Hiking is a bit like life: The journey only requires you to put one foot in front of the other…again and again and again. And if you allow yourself the opportunity to be present throughout the entirety of the trek, you will witness beauty every step of the way, not just at the summit"

Unknown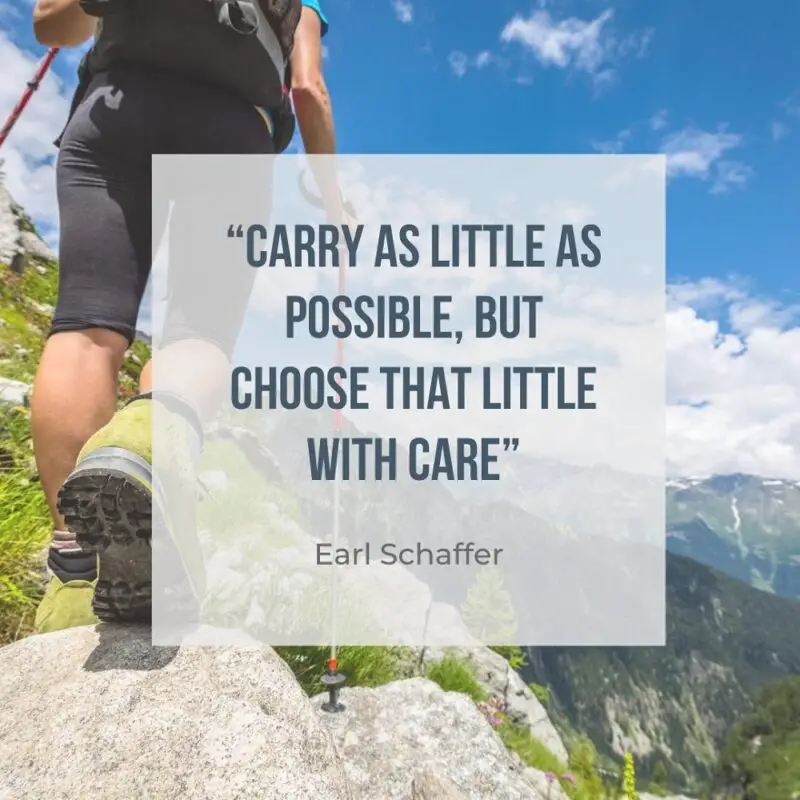 "Carry as little as possible, but choose that little with care"

Earl Schaffer
"On a hike, the days pass with the wind, the sun, the stars; movement is powered by a belly full of food and water, not a noxious tankful of fossil fuels. On a hike, you're less a job title and more a human being. A periodic hike not only stretches the limbs but also reminds us: Wow, there's a big old world out there."

Ken Ilgunas
Reflections on the best hiking quotes for inspiration
If you didn't become inspired to head out in nature after reading these exceptional hiking quotes I don't know what will. Being a hiking addict might explain why I was mentally out on the trails already when reading the first one and super excited to take on both new and known mountain peaks and long-distance hikes.
Now, it's just to get started with writing down that hiking bucket list.
If you need some tips, here are the best hikes in Andalucia.
If you're new to hiking, I have a few resources that can be useful here:
The 7 Leave No Trace Principles