More than once have hikers mistaken the peak of Cruz de Juanar for the more popular, La Concha peak. And rightfully so, it is just about halfway there. La Cruz de Juanar is a steep, rocky peak with sweeping 360-views of endless mountains and the glittering sea off Marbella's coastline. On a clear day, you'll see Africa perfectly from the top.
If you're looking for an epic sunrise hike, Cruz de Juanar is an excellent choice! It's usually no people about and you can enjoy the morning sun's golden light covering the surrounding mountains. No arguing one of my favorite peaks for sunrise.
Legend says, that once a sailor was lost at sea on a foggy day, and what saved him and made him see land, was the sight of this peak. To help guide other sailors to land, he raised a big cross at the top of the peak.
This might not be a long hike, but it's strenuous, so unless you're used to hiking in the mountain, it can be a challenge and I don't recommend it as a beginner hike. You can check out what hikes I recommend for beginners in Andalucia here.
However, if you're up for the challenge, read on as I'll go through everything you need to know to hike this golden peak!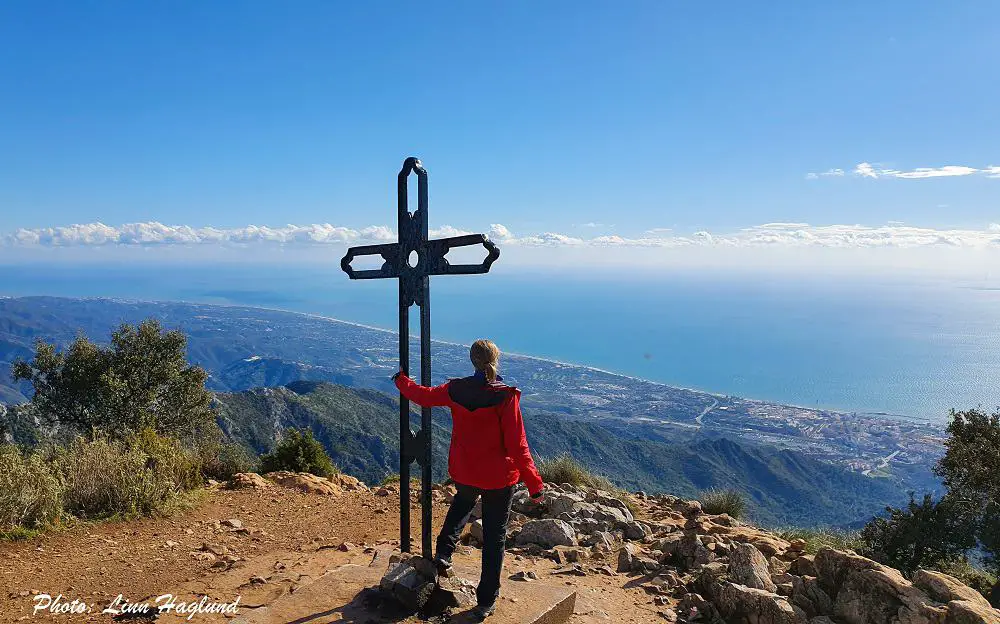 ---
Disclosure: This post may contain affiliate links. That means that if you make a purchase through one of those links, I will get a small commission at no extra cost to you.
---
Practical information
Province: Malaga
Mountain range: Sierra Blanca
Length: 6.3 km
Time: 2.5 hours
Elevation: 371m
Altitude: 1204m
Route: Circular
Difficulty: Moderate-difficult
Hiking season: mid-September to May, note that hiking in the rain can be tricky near the top.
Hiking with dogs: It's allowed to hike with dogs, but avoid the months from January to May, as the pine processionary caterpillars are out and can be fatal to your dog (and believe me, the forest here is FULL of them every year!) Read everything you need to know about hiking with dogs here.
How to get to Cruz de Juanar Marbella
Cruz de Juanar hike starts from Refugio de Juanar, past Ojén coming from Marbella. Access from the A7 is easy, just follow the signs to Ojén and drive up the windy roads past the village. You'll soon see a sign to Refugio de Juanar where you'll continue up an even narrower mountain road through the mountain.
When you get to a junction in the forest, you'll find Refugio de Juanar to the right and parking lots on the left. You can park as far up to the left as you can get as the end of this road is the trailhead.
That said, bank holidays and weekends, especially Sundays, fill up very quickly and if you're not there early, you might have to park along the road near the bottom of the mountain road.
Alternatively, you can park in Ojén and add an extra 2 hours each way to the hike.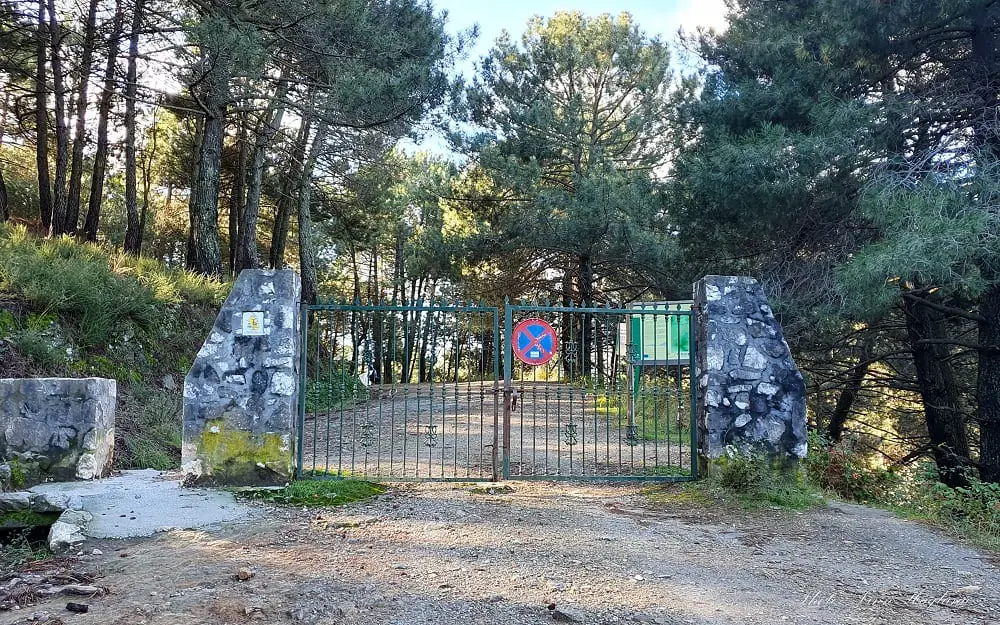 When is the best time to hike La Cruz de Juanar
Since Cruz de Juanar is found at a low altitude on the coast, this is not a hike I would recommend taking on in the summer months unless you go for sunrise and head straight back down when the sun starts to warm. Read my tips for hiking in summer.
However, autumn, winter, and especially spring with the colors of pink spring flowers are perfect for hiking this peak.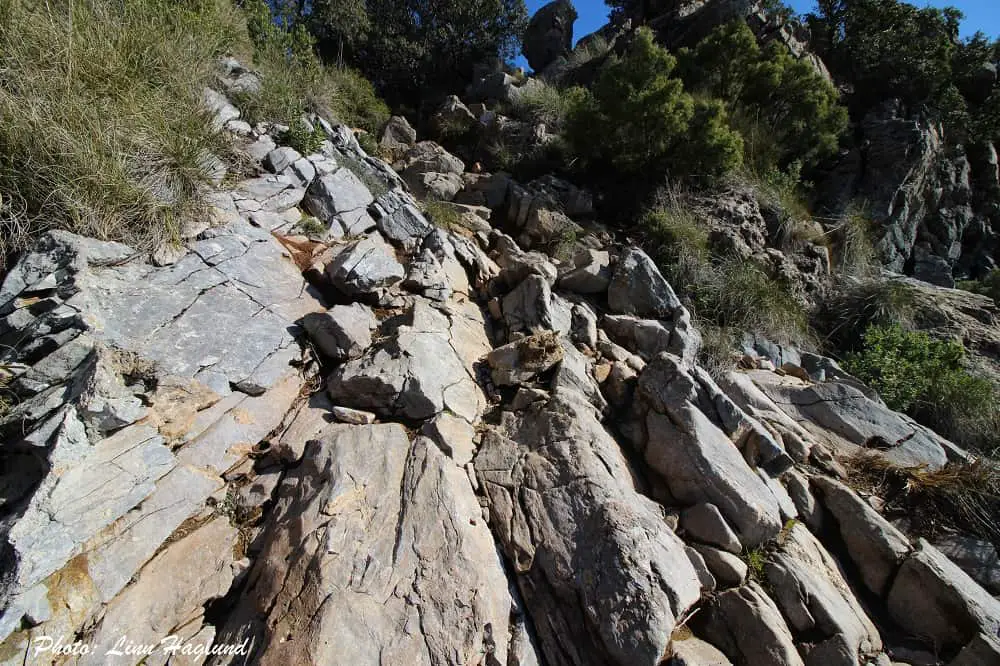 RELATED: Check out the top hikes in Malaga
What to bring when hiking Cruz de Juanar
Even though this isn't a long hike, it's necessary to wear good hiking shoes or boots. Especially the last bit up the peak and the route I'll suggest to loop back down are steep and might require a little light scrambling. There's a loose surface and easy to slip in this area so old, worn sneakers won't cut it.
You might find hiking poles useful on this hike, and if you struggle with your knees, bring a knee brace for hikers to support.
Also, be aware that the Andalusian sun can be scorching hot even in winter, so bring sunscreen if you get easily burnt and even a hat to protect your head. There is a fair bit of shade on a large part of the way up, but less on the way down.
Water
Snacks
Camera
Hiking poles
Sunscreen
Where to stay
The best place to stay when hiking Cruz de Juanar (unless you choose to stay at the actual Refugio de Juanar) is in Marbella. With beaches, an enchanting old town, and lots of restaurants and bars for entertainment, you won't get bored. Here are a couple of recommended hotels in Marbella to stay at.
Lucero 12 – A wonderful hotel with nice rooms right by the beach and on the edge of Marbella's old town.
Marbella Inn – Close to the Old Town and the beach, this hotel is another great option. At Marbella Inn, you can indulge in the outdoor pool in the hot months.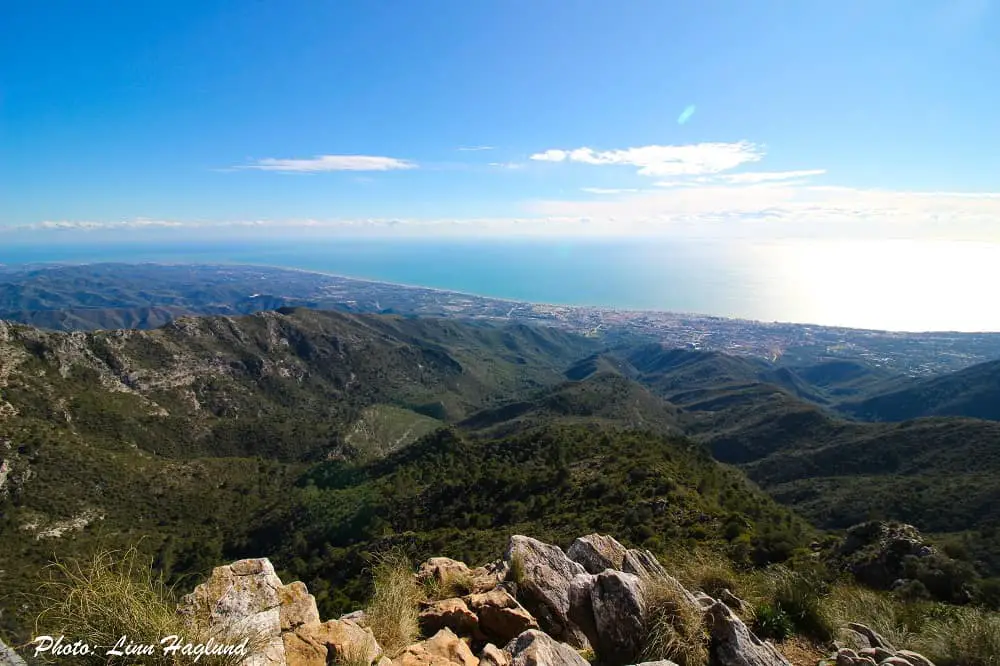 Hiking Cruz de Juanar
From the roadblock at the top of the parking area, the hike starts on an easy dirt road through a forested area before it opens up to cultivated olive groves. After a few hundred meters look up for signs to La Concha taking you across the olive groves to your right.
Walk straight on this path until you reach the forest and continue under the canopy of fur trees until you get to a junction. Follow the signs to La Cruz de Juanar and La Concha towards the left and soon the ascent starts.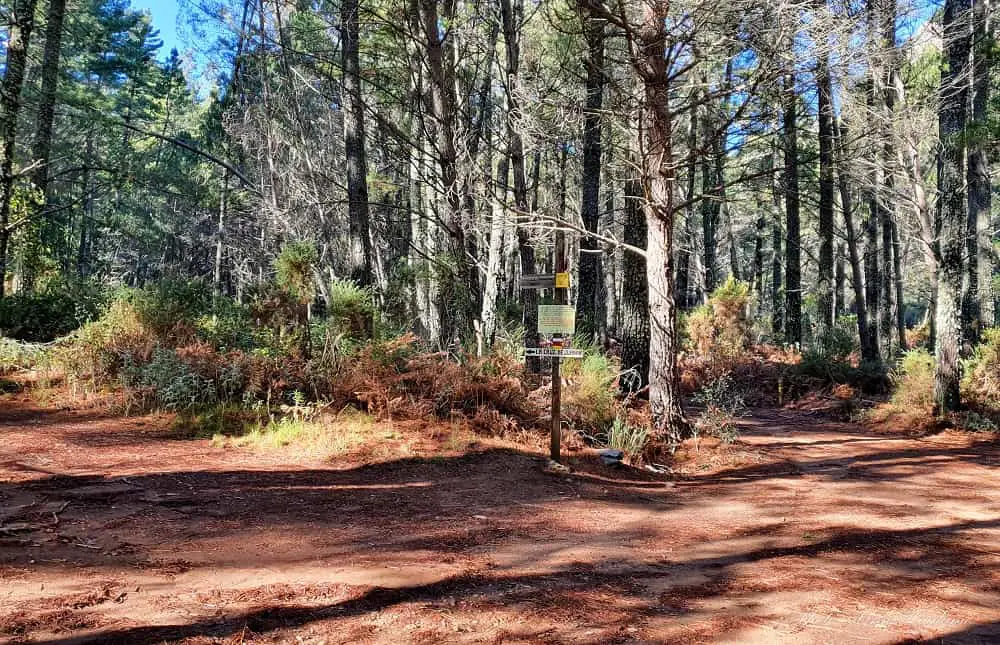 Keep climbing until you reach the top of the hill and it starts opening up in front of you. To your left, you'll see a steep slope. This is Cruz de Juanar and you just have a short walk up the side of the mountain left, but this is also the steepest and hardest part.
The last few meters can include some light scrambling before you're only a few meters from the cross and breathtaking coastal views. If you hike with kids, be careful as some of the edges are steep and the drop can be fatal.
Going back down, look for a small path marked with an arrow on the rock. It literally goes down right behind the sea view. This path slides near vertically down the mountain until it flattens out and reaches the dirt road that takes you straight back to the car.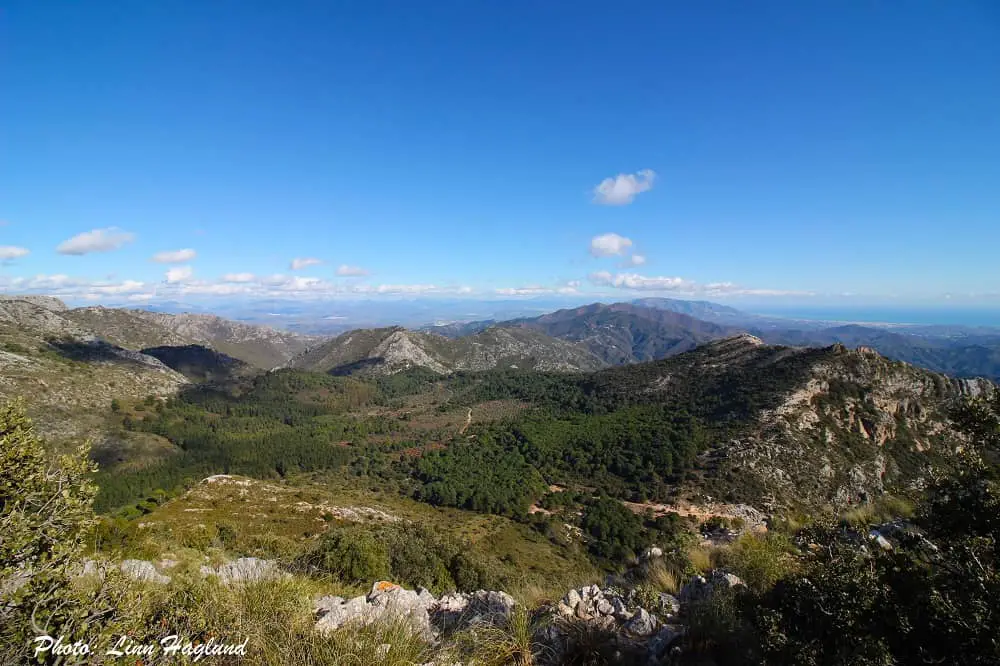 Reflections on hiking Cruz de Juanar
La Cruz de Juanar hike is truly one of the best hikes in Andalucia considering the spectacular coastal views you get in such a short climb. Still, it gives enough sense of adventure to feed those itchy feet when you don't have the time to go on a long hike.
I said it before, and I'll say it again – Cruz de Juanar Marbella offers some of the most spectacular views for sunrise so if you're an early riser, don't miss out on it.
Happy hiking!