Are you searching for the perfect hiking gift for him that strikes the right balance between unique and practical?
If you're struggling to find the right thing to get that outdoorsy man in your life, look no further and tell your worries to take a hike.
I've leaned on my many years of trekking experience to compile this list of some of the best hiking gifts for guys.
My handpicked selection of trailblazing accessories will supply you with unique and practical trail-ready ideas for every budget. Showcase your great taste and surprise him with something memorable.
Disclosure: This post may contain affiliate links. That means that if you make a purchase through one of those links, I will get a small commission at no extra cost to you.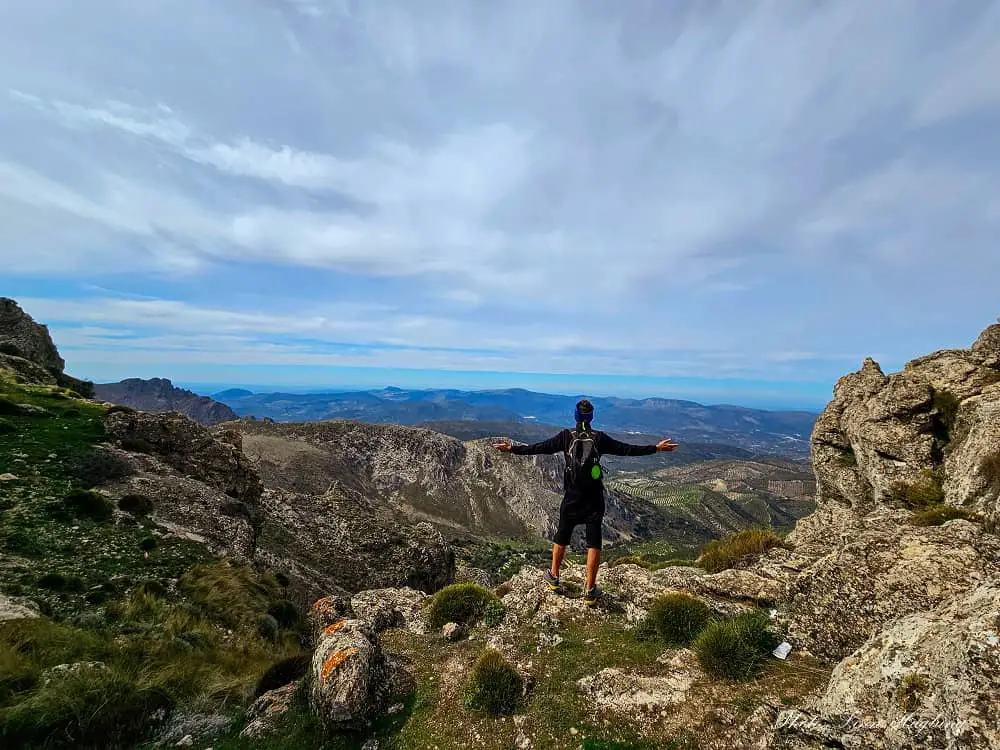 Best Hiking Gifts for Him (over $100)
Go Pro HERO11
One of the best hiking gifts for men is a Go Pro HERO11 giving him a fantastic way to document his adventures.
There is no sports camera that can compare to this and no matter the weather conditions, he will be able to carry it with him.
I particularly love that it is lightweight and easy to store away in a pocket when not in use, while their accessories are great for wearing the camera and documenting everything on the trail, from steep ridges to cliff jumping in remote mountain lakes.
Garmin GPS watch
A Garmin GPS watch is a great hiking gift for him that loves to get off the beaten track and head out on longer treks.
When all signal is out of reach and the GPS on his phone loses connection, the Garmin GPS will keep him on the right track no matter what.
Garmin is a leading brand in the GPS world and this watch is created to meet US military standards. Thus it will survive the toughest weather conditions and falls like no other.
If you want to make him smile, this is for sure a winner!
CLIQ Portable Chair
Sometimes you don't know what you absolutely need until you borrow it from a friend. That's precisely what happened to me with the CLIQ Portable Chair.
More versatile than a hammock, this easy-to-use chair lets you take a restful break anywhere during your hike. The days of squatting for shade under a dry and sitting on the ground are over.
Take a breather in comfort with this ultra-portable hiking gift idea for him. Let a seated break at your turnaround point motivate you to give it your all.
The only downside is that you might turn other hikers green with envy.
Black Diamond Trekking Poles
A pair of trekking poles for hiking is one of the most useful hiker gifts for him, especially if he goes through rough terrain and steep hills.
Funny enough, all the guys I know have told me they don't need hiking poles, but the moment I hand over mine to them on a hike (as I'm always busy taking photos so they get in the way) they don't want to give them back.
And guess what my partner, Mohammed, wants before we head out on the next big hike? You guessed right. Trekking poles.
Not only are trekking poles great support when walking up and down, but they also take off a lot of the weight from the knees which makes a huge difference.
And besides, no man will argue that getting a little bit of arm exercise on a hike is always welcome. So if he hasn't told you he wants hiking poles, he will realize he wanted them after testing them out on the first trek.
Black Diamond is a leading brand when it comes to trekking poles and you can stay assured they will last for a long time.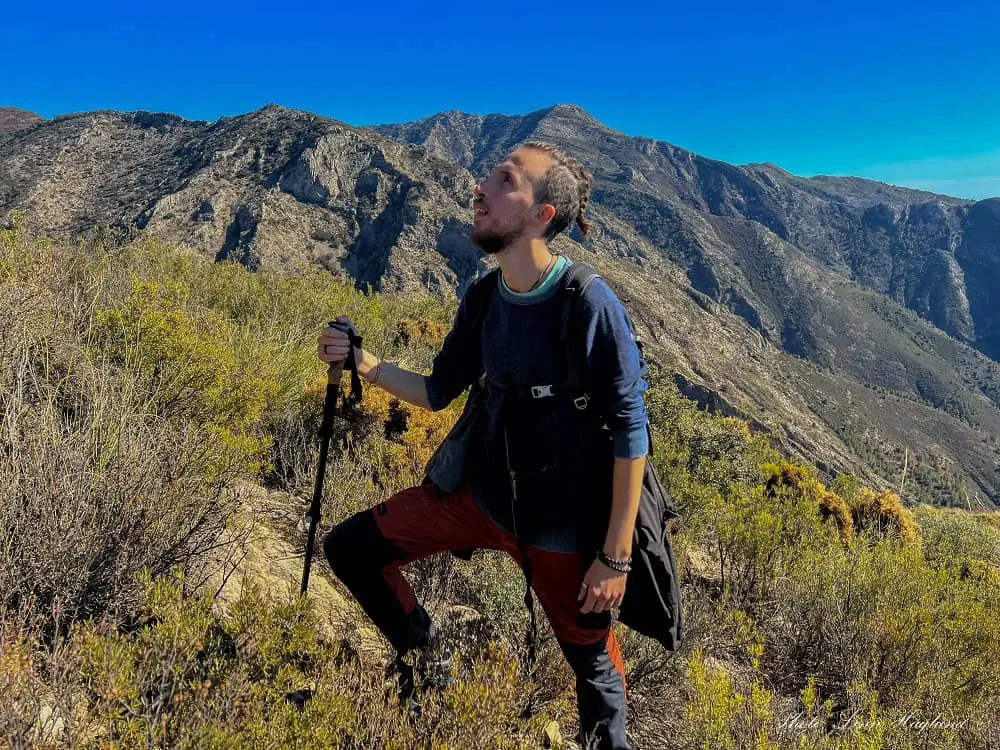 Hiking gifts for men (between $50 and $100)
GRAYL Geopress 24oz
Surely one of the best hiking gifts for men that spend a lot of time in nature. While a water bottle is a must, this is a water purifier and water bottle in one.
Bringing this guy on a hike makes it super easy to fill up water anywhere on the trail without worrying about the water quality.
The built-in purifier filters out bacteria and viruses from the water making it safe to drink. This makes it not only one of the best hiking gifts for him but also a very useful accessory to bring on the trails or when traveling to countries that have not-so-great-drinking-water.
Columbia Men's Watertight II Jacket
No hiking gift list is complete without a reliable water and wind-resistant jacket. If he needs top-notch rain protection, then look no further.
Columbia's legendary quality and craftsmanship ensure that this jacket keeps you dry and comfortable even in the dreariest conditions.
The Columbia Men's Watertight II jacket will allow him to stay outside longer and feel more comfortable doing it.
Osprey Daylite Daypack
Simple and durable, this ultralight hiking backpack is a superb idea for a potential hiking gift for him. This comfortable bag features an interior sleeve for a hydration reservoir, dual water bottle pockets, a main compartment, and space for a 13″ computer or tablet.
Made sustainably from recycled materials, this hiking gift for men is an excellent eco-friendly option. Comfort is vital when it comes to adventuring, and this daypack is among the best options out there.
Its mesh-covered back panel ensures that your back stays super dry and ventilated.
JBL Clip 4: Portable Speaker
Bring your tunes along with this waterproof and dustproof portable speaker, no matter how far your next adventure takes you.
Don't get me wrong, sometimes I love listening to the serene sound of nature on my hikes, but other days I want some music.
Sometimes all it takes to push yourself further on the trail is the right song. Each charge will give you six to ten hours of enjoyment, long enough to last you on even longer day trips.
Clip this lightweight speaker on your backpack, and you're ready to explore.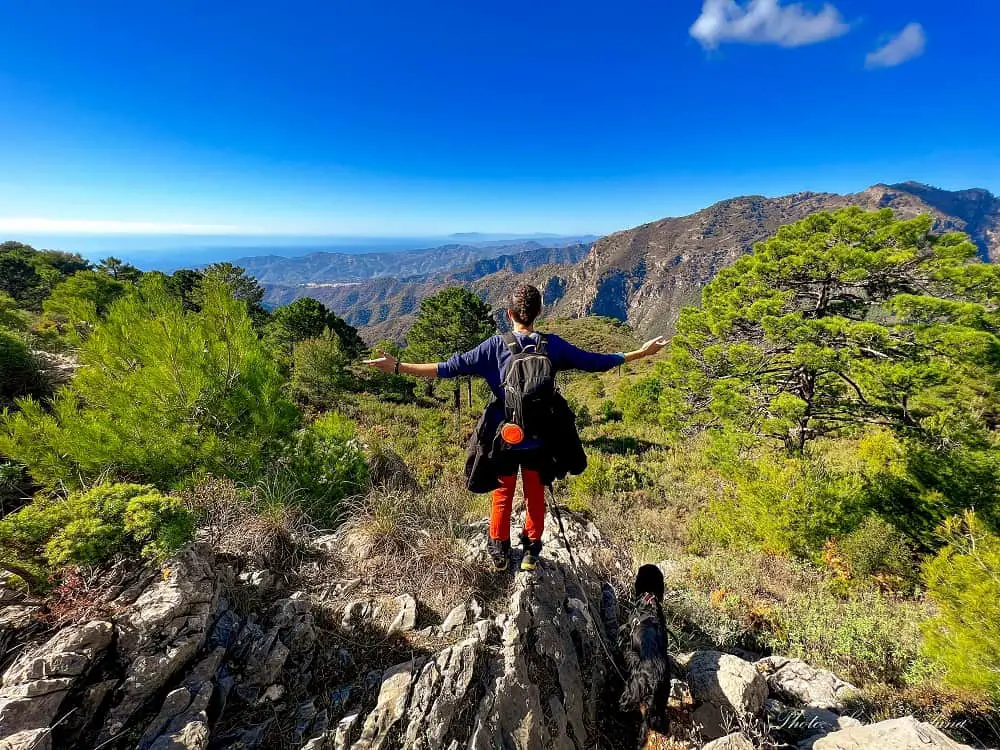 Hiking Gifts For Him Under $50
EINSKEY Sun Hat
Stay cool even on the hottest days with this wide-brim bucket hat. This breathable sun hat offers an ultraviolet protection factor of 50+ to protect you from harmful rays.
Its water-repellent material makes this a great hiking gift for him, as it is highly convenient when hiking in unpredictable weather.
Although it has a circumference of 22 to 24 inches, the EINSKEY Sun Hat is foldable and lightweight, allowing you to stow it almost anywhere.
An adjustable drawstring will ensure your hat stays firmly on your head, while a built-in sweatband keeps the sweat from your eyes and face.
Pohaku Multitool Knife
A sleek and functional tool that will have you prepared for anything. The Pohaku Multitool Knife includes 13 different instruments in one handy tool, including a bottle opener, various blades, needle nose pliers, three screwdrivers, wirecutters, and a saw.
Its ergonomic design, weight, and size make it easy to use and pack. Easily carry this multitool in a pocket or hook it on your belt.
While many pocket knives and multitools offer options and durability, they often sacrifice usability for features.
The Pohaku Multitool Knife's nearly 4″ blade allows comfortable, heavy-duty cutting.
Carhartt Men's Knit Cuffed Beanie
This iconic beanie is more than just an essential wardrobe accessory. Its stretchable rib knit-fibers will warm your head and ears on those colder hikes.
The Carhartt Men's Knit Cuffed Beanie is one of the best hiking gifts for men because you can wear it both on and off the trail.
The durability the Carhartt brand is known for is unparalleled, so you're likely to have it for years even if you wear it every day—an excellent gift for the eco-conscious man who values sustainable choices.
Go Time Gear Life Tent
Even the most seasoned outdoorsmen cannot predict every situation. Regardless of experience and expertise, emergencies happen; when they do, you want to be prepared.
This two-person emergency shelter will keep you warm and dry regardless of wind, rain, or snow. The Go
Time Gear Life Tent features puncture-resistant material that reflects 90% of your body heat, allowing this ultra-compact tent to keep you warm in life-threatening conditions.
You will also receive a 120-decibel emergency whistle and a 20 ft paracord with your purchase. Take to the trails more confidently than ever with this excellent trekking gift for him.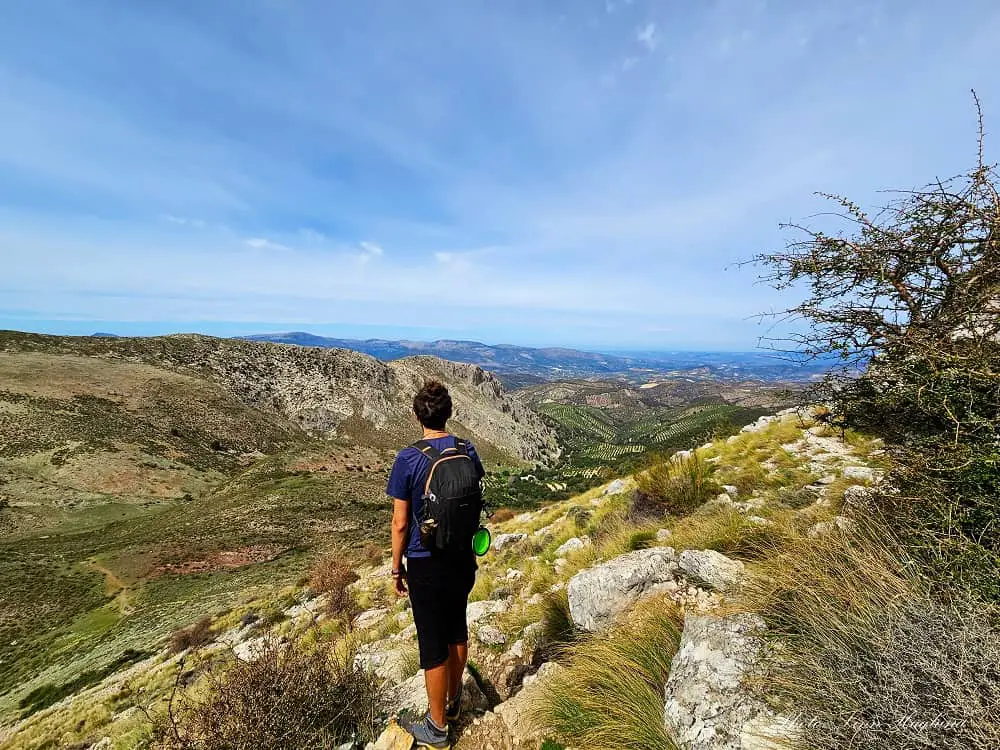 Suscell Solar Charger Power Bank
Forget to charge your phone before that long hike? Well, that's not a problem if you own a Suscell Solar Charger Power Bank.
Compatible with iPhones and most other smartphones, this battery pack is capable of charging two phones simultaneously.
Its carabiner makes it easy to clip onto a backpack, and its quality and durability let you take it anywhere.
More than just a solar charger, this power bank also features a handy flashlight to light the way after dark.
Injinji Men's Trail Midweight Mini Crew Toesocks
If you think socks aren't a great hiking gift for him, you're sorely mistaken—and you most likely have never worn Injinji socks.
The isolation of the toes allows them to splay naturally with your stride, which promotes increased stability.
Having fabric between your toes is far more comfortable than you may initially think. Isolated toes means no more blisters, which also means you can hike much longer.
Whether heading out for a quick day trip or taking a longer trek, the Injinji Men's Midweight Mini Crew Toesocks will keep your feet dry and comfortable.
You'll never look at socks the same way again.
Energizer LED Headlamp
Made for comfort, the Energizer LED Heamlamp's lightweight design and adjustable strap let you light up the trail with hands-free ease.
This compact device is great to keep in your hiking bag in case you don't make it back before the sun sets or want to enhance your night hikes.
With seven different light modes and up to 35 hours of battery life, this headlamp is as versatile as it is reliable.
This headlamp is also great for wildlife and trail photography when lighting is less than desirable. It is both battery-powered and rechargeable.
TOREGE Sports Polarized Sunglasses
When considering different potential hiking gifts for him, few are more classic than a solid pair of polarized trekking glasses.
TOREGE TAC polarized eight-layer lenses offer UV400 protection and a much clearer view of the scenery around you.
These glasses also are fantastic at fighting any pesky reflected or scattered light and restoring true color.
The nose grip will keep this stylish and essential accessory on your face even when you begin to sweat. Its advanced lenses will never fog.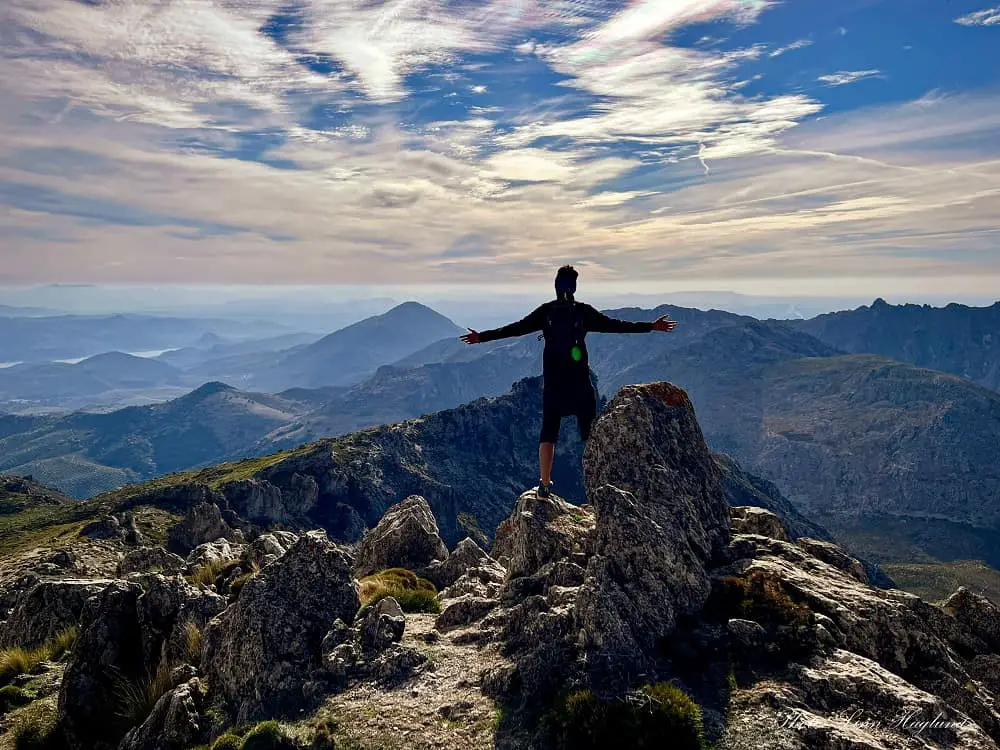 Wise Owl Outfitters Camping Hammock
Kickback and relax just about anywhere with a portable travel hammock, and rest in style during your hikes.
Easy to use, you can set it up in around one minute. The Wise Owl Outfitters Camping Hammock comes in two sizes and either seats one with a maximum capacity of 400 lbs or holds two with a limit of 500 lbs.
You will also have seven options for color. This lightweight tent weighs only 24oz and folds up small enough to hold in one hand.
Turn your next hike into a relaxing retreat into nature with this excellent hiking gift for him idea.
Wespornow Men's-Convertible-Hiking-Pants
Is he an indecisive dresser? Help him conquer his hesitation with a pair of quality convertible pants.
Effortlessly switch between pants and shorts in no time at all, making them perfect for early morning hikes that start off freezing but end hot.
Their lightweight material is quick to dry and breathable but durable enough to handle even the most demanding trails making them one of the best hot weather hiking pants.
The elastic waistband and articulating design around the knees make moving in these pants a comfortable experience.
While these pants were designed for the outdoors, they are fashionable enough to become a staple in your everyday wardrobe.
33,000ft UV Protection Long Sleeve Hiking Shirt
Stay protected from the sun in this breathable button-down. This shirt offers UPF 50+ protection from harmful ultraviolet rays, and its extended collar ensures your neck is protected as well.
Moisture-wicking technology will keep you dry as it directs sweat away from your skin.
Unlike many other hiking button-down shirts, the 33,000ft UV Protection Long Sleeve Hiking Shirt does not feel bulky and has sleeves that easily roll up when the temperature rises.
This idea is also suitable for everyday casual wear, making it one of the best hiking shirts for hot weather.
MORE GIFT GUIDES:
Best hiking gifts for her
Best gifts for hikers
Final Thoughts on hiking gift ideas for him
I hope my list of hiking gift ideas for him helps you decide on a gift that is as special as he is. As a seasoned hiker, I am confident that he will love every option listed here, no matter which one you choose. When in doubt, my tip to you is to get him something versatile. Good luck and happy hiking.