When you head out on the trails you probably want to take your furry friend with you. But when you go hiking with dogs, there are a few extra things to think about. Most importantly, you need to bring the right hiking gear for your dog.
There's so much hiking gear for dogs to choose from and sometimes you don't even know if it's something you'll need or not.
Having hiked with my lady Ayla for the last 12 years, I've built up experience on what's actually needed and when.
But we've also tested out a fair bit of dog hiking gear and in this post, I'll go through the essentials and when you might need it or not.
Disclosure: This post contains affiliate links. That means that if you make a purchase through one of those links, I will get a small commission at no extra cost to you.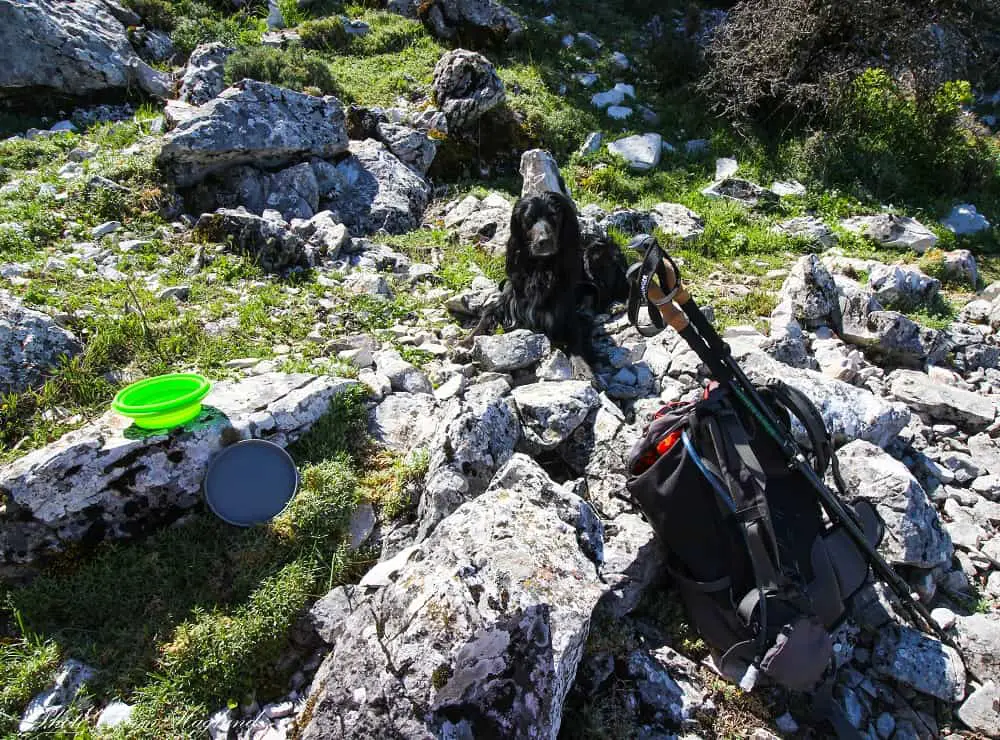 BE A GREEN HIKER!
Best hiking gear for dogs
Dog hiking leash
A dog hiking leash is a must whenever you go hiking. No matter if your pooch is well-trained and runs loose, you need to bring a leash, making it one of the absolute most essential dog gear for hiking.
There might be wildlife on the trail or you might meet people that are scared of dogs. In some areas, it is also mandatory to keep your dog on a leash.
I love the quality of Ruffwear's dog leashes – these will last you for life even with a hiking dog's wear and tear.
Hands-free waist leash
Talking about dog leashes. As mentioned above, a good-quality dog leash is a must when hiking with your pooch.
In a lot of places, it's mandatory to have your dog on a leash, but it's also important to have it handy in case you need to call in your dog due to wildlife, difficult sections, or other hikers.
This leash from Pecute is a great option since you can use it for short hikes and trail running with space for the necessities like a water bottle, poop bags, treats, and your phone.
But you can also take off the leash and strap it directly to your hiking backpack which makes this one of the most useful items on any dog hiking gear list.
What I love about it, is that it has sections with stretch for suspension when pulling as well as sections without stretch so that you can easily control your pooch when needed.
This leash can also convert into a dual leash if you have two dogs.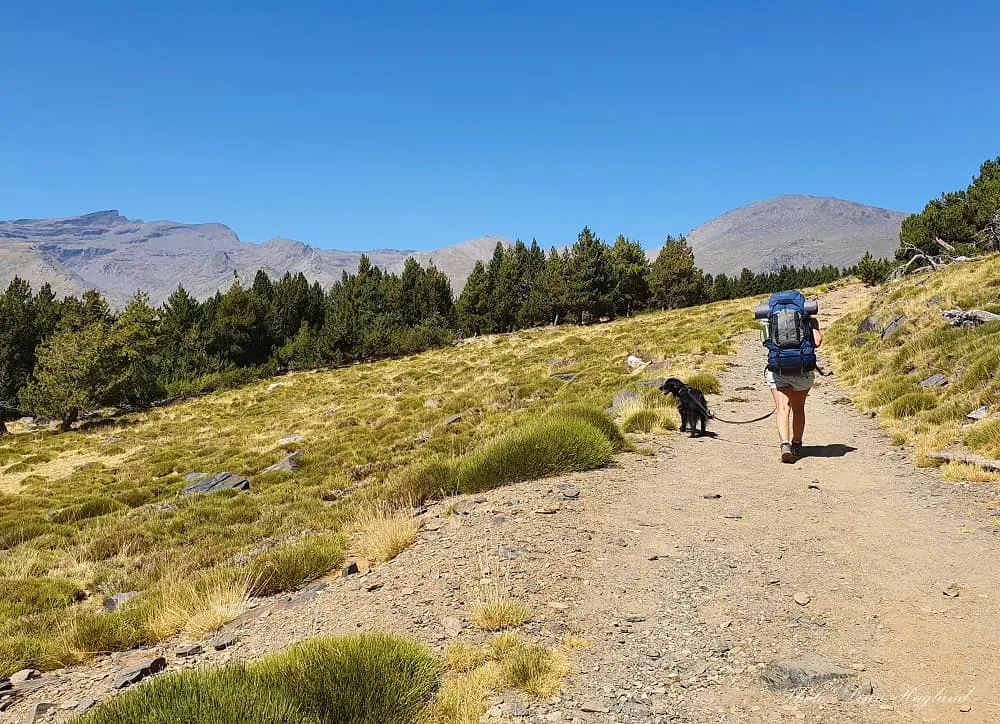 Dog harness
A solid dog harness is a must when hiking with your dog. Ruffwear is one of the leading brands when it comes to high-quality hiking gear for dogs and this harness is no exception.
Make sure your pooch is comfortable at the same time as you know it might last a lifetime.
The good thing is that this harness comes with small pockets so that the dog can carry some small things itself.
But most of all, I love the handle on top. I can't count how many times I've been in situations where Ayla had to be lifted and this is a life-saving feature for a safe and comfortable hike for both you and your dog.
Water bottle
If you go hiking in a place where there are no or few natural water sources where your dog can drink, you'll need to bring a water bottle.
Picking a water bottle with a bowl or container that the dog easily can drink from is useful and saves you the space of carrying a separate water bowl.
This is easily one of the most useful accessories to add to your dog's hiking kit.
Collapsible food and water bowl
A collapsible water and food bowl is one of the necessary dog hiking accessories you must bring on a hike.
I used to bring one with a lid and put it inside the backpack, but lately, I swapped to these open ones and hang them on the outside of the backpack instead.
That way they dry quickly and it is so much easier to get hold of it. This is especially useful when you are hiking in hot weather and there are few or no natural water sources.
They are budget-friendly and surprisingly durable.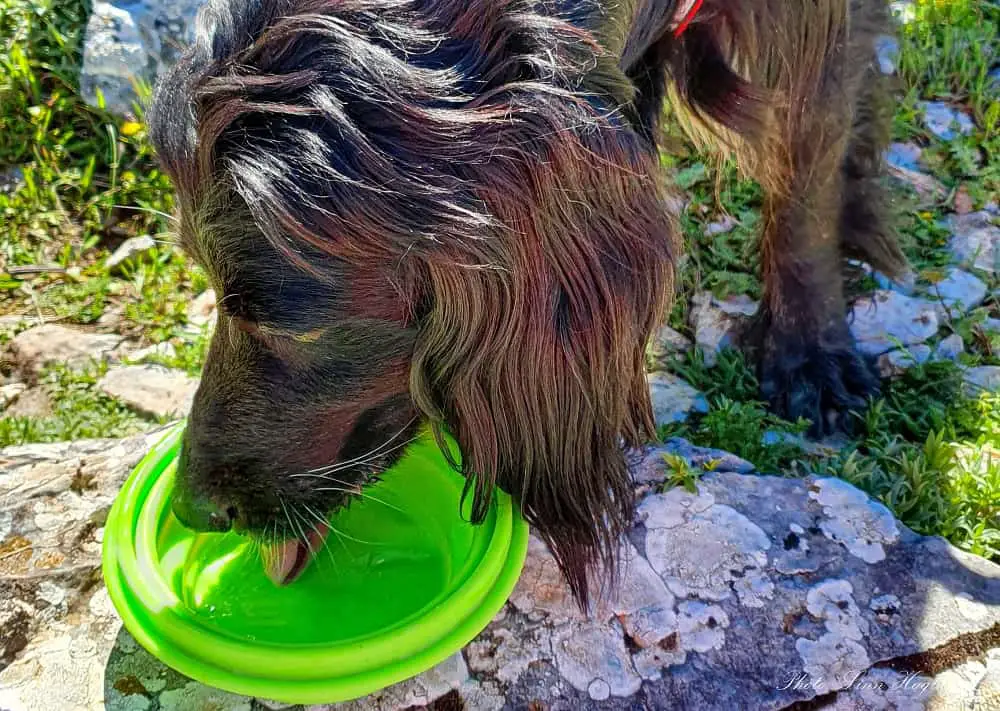 Dog hiking boots
Dog hiking booties are among the dog hiking essentials when you head to rocky terrain where the dog's paws easily can get hurt.
Ayla had no issues before she turned about 9-10 years old and started cracking on her paws on longer and rougher hikes.
Now I always carry them with me in my backpack and take them on and off during tougher hikes and she has been perfectly fine since I bought them.
We have been super happy with these ones from Trixie. They are super durable and as long as you strap them well on, they don't fall off.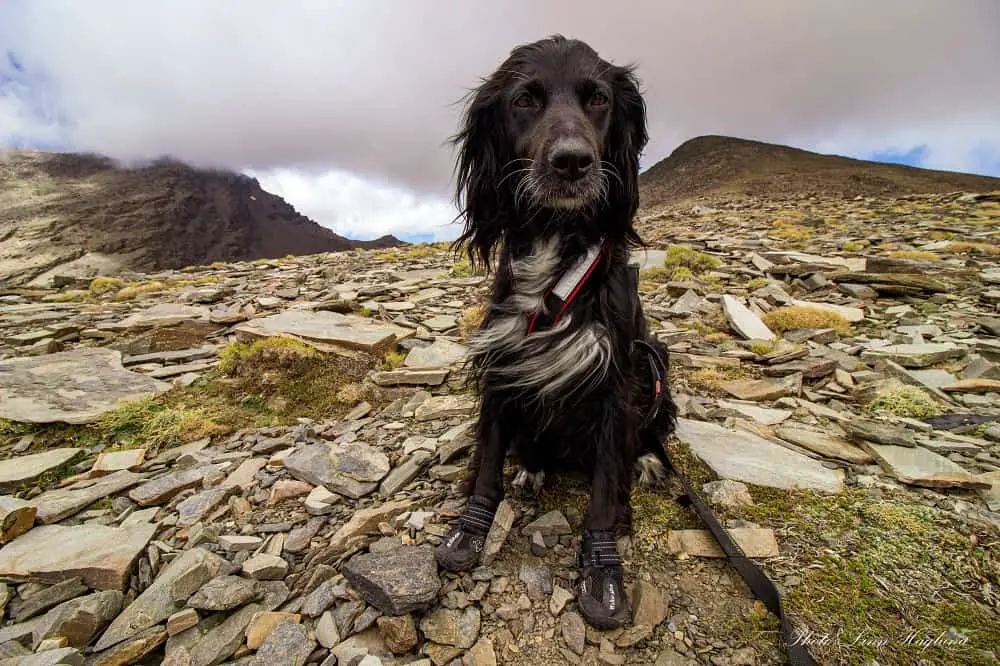 Paw balm
When heading out on a longer hike or hiking on hostile surfaces like rocky or uneven ground, your dog's paws can easily get sore or even crack. Then a good quality paw balm is essential.
Usually, I put it on Ayla's paws already the night before to soak in properly and soften her paws if they're dry. And with age, I notice that she has dier paws and they crack easier.
If your dog is young and has soft paws you might not need to think about it the day before. But it's absolutely recommendable to add ointment the same morning before your hike and if you're going on a long day hike or a multi-day hike, smear on some during your breaks too.
It's better to be on the safe side than struggle with sore and cracked paws the next two weeks after the hike.
Ayla and I are fans of this organic paw balm from Pure and Natural Pet and suggest you add it to your kit of backpacking gear for dogs.
Cooling water bowl
This is one of the cool hiking dog accessories that I don't use but accidentally came over. You basically fill the interior with water and put it in the freezer before the hike.
This way, your dog can drink cold water on any day hike helping it stay cool. Knowing Ayla, she does prefer cold water when it is hot, so your pooch might like it too.
It is definitely something that is on my wish list, but nothing necessary. That said, it is good to know you can keep your dog cool on a hot day, especially if natural water sources are scarce.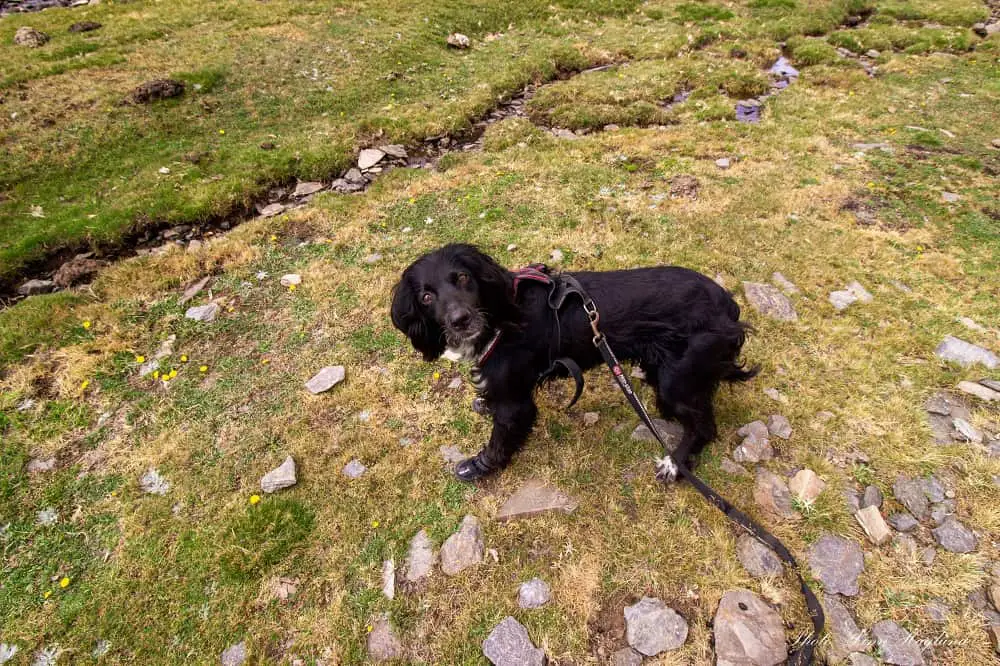 Don't forget poop bags
Finally, make sure you don't forget poop bags! Luckily, there are plenty of biodegradable poop bag options out there, so you don't have to worry about excess plastic waste.
I like to purchase them in larger packs so I don't have to worry about it for a while and that way, I will always find some in backpacks and pockets if I start to run out. Sounds familiar?